Gulf Island National Seashore contains a set of barrier islands located both in Mississippi and Florida. The two districts contain a total collection of 12 units including beaches, bayous, and islands. Hitch and I took a quick day trip to the only part of the Gulf Islands accessible by car and within Mississippi: the Davis Bayou Area. After a stop at the visitor center, we learned that ferry rides to the islands wouldn't begin until summer. Regardless, we satisfied ourselves with exploring the area around the visitors center.
Native Shell Mounds
The Davis Bayou Area is fairly small. There is a boardwalk near the visitor center, which lead us to a dock where you can fish and watch shorebirds. At the other end of the park, near the campground, we saw alligators and turtles. The most interesting thing we found was the evidence of shell mounds left by the Apache and Choctaw tribes. Before the European colonists, the Apache boundaries extended as far west as present-day Texas to the coastal parts of Louisiana, Mississippi, Alabama, and panhandle Florida. While the Choctaw mostly roamed the internal areas of those same modern-day territories. Today, a camping area and parking lot dominate the landscape. If you walk along the shore you can spot oyster and mussel shell remains which mark the edge of the mound. Not much else remains of these native tribes from that age.
Boating Around the Bayou
Later in the afternoon, we decided to join a ranger-guided boat tour of Davis Bayou. Thanks to our guide, we learned the difference between a swamp and bayou. Bayou is a body of water typically found in a flat, low-lying area, and can be either an extremely slow-moving stream or river or a marshy lake or wetland. The name "Bayou" can also refer to a creek whose current reverses daily due to tides and which contains brackish water highly conducive to fish life and plankton. Swamps, on the other hand, are generally slow with an almost imperceptible current flow.
Through our boating route, we saw a few birds, alligators, and turtles. To get to the sound, we took a narrow boat channel marked by pylons. As we reached the outer boundaries of the Davis Bayou area, we saw strings of buoys indicating crawfish traps below. Upon the open water, we spotted dozens of terns, gulls, and pelicans.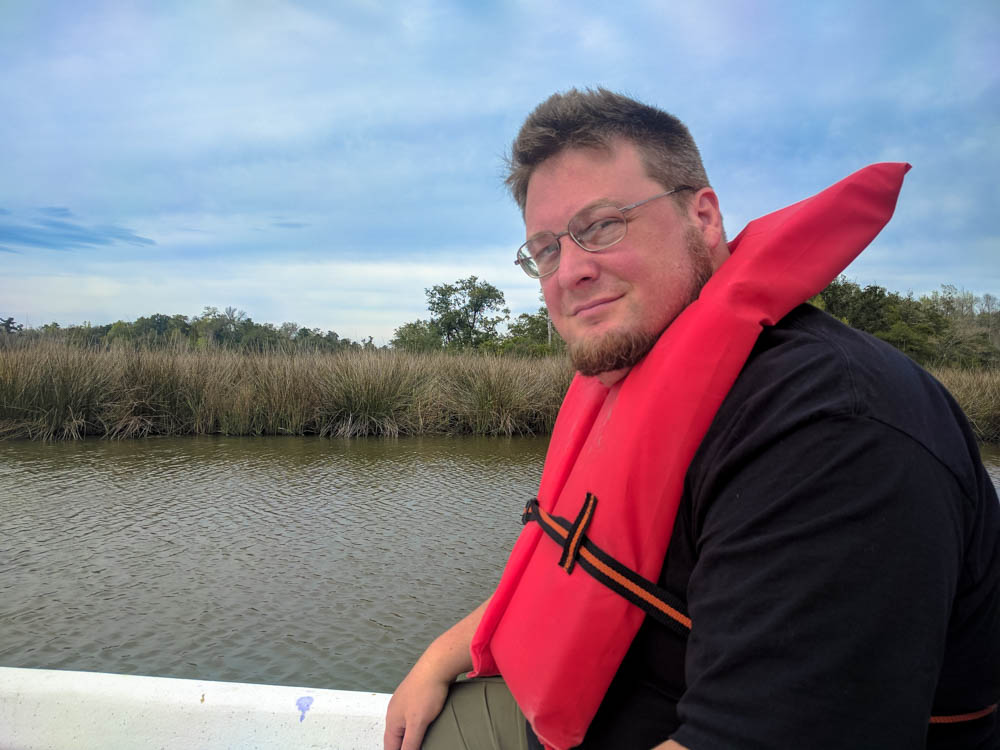 2010 Deepwater Horizon Oil Spill
While on our boat tour, we also talked briefly about the Deepwater Horizon oil spill. In April 2010, Deepwater Horizon drilling rig hit a high-pressure methane gas pocket. The gas rose from the well and expanded up into the rig where it ignited and exploded. The result of the explosion released masses of oil into the Gulf of Mexico. In total, the spill released 4.9 million barrels of crude oil, making it the largest marine oil spill in history. To give you a comparison, the spill was almost 20 times greater than the Exxon Valdez oil spill.
By June 2010, numerous waves of oil pools and globs of tar landed on Gulf Islands National Seashore. Meanwhile, across the Gulf, nothing was untouched by the oil spill; from coral to fish, shorebirds to dolphins and whales. People suffered too, and not just because of fishing bans. By breathing, touching, and swallowing chemicals in oil, people suffered from acute toxic effects.
Fast forward today, seven years later wildlife still suffers from the spill. Northern Gulf of Mexico dolphins suffer from a higher mortality rate and birth defects, thus their populations dwindle. According to our ranger, the bird populations were deeply damaged by the spill, but today the numbers are slowly rising.
Islands, Beaches & Bayous
After our boat tour, we went back to the Visitor Center to learn more about the areas of Gulf Island. I learned that the Gulf Island National Seashore encompasses a large area. Ultimately, I knew that we needed more than a single day to see it all and felt a little disappointed that I didn't allow for more time. Just to give you an idea of what we missed, here's a list of all the places within this national seashore.
Mississippi Areas
Davis Bayou Area – located near Ocean Springs, Mississippi. A great place to fish, bird watch, and learn about the Bayou habitat.
Cat Island – The island is named for raccoons which Spanish explorers mistook for cats. During World War II, the island was a base for the Cat Island War Dog Reception and Training Center where Americans sent family dogs to be trained by the U.S. Army Signal Corps for military service.
Ship Island – Hurricane Camille split the once single island into 2 separate islands in 1969: East Ship Island and West Ship Island. The island served as a vital anchorage for ships for French, Spanish, British, Confederate, and Union occupations. Today, both are accessible by private boat year-round. The East Ship Island can be reached by passenger ferry seasonally. West Ship Island is the site of Fort Massachusetts
Horn Island – This undeveloped island is known for its sugar-white sand, dunes punctuated with sea oats, tall pines on small groves, and a few inland lagoons. Visitors can only access this island by private boat.
West Petit Bois Island – Once known as Sand Island, it joined Petit Bois Island long ago. Today, this undeveloped island is popular for wildlife and bird viewing.
Petit Bois Island – Petit Bois in French means "little woods," and named by early French explorers due to a small wooded section located on the eastern end of this mostly sand and scrub-covered island.
Florida Areas
Perdido Key Area – Located on Pedro Key, Florida, this recreational area offers daytime access to the Gulf of Mexico and white sandy beaches of Johnson Beach. In the 1950s, many of the beaches near Pensacola were designated as "whites only," meaning colored people couldn't visit the beaches. This beach was named after a Korean War Army Private Rosamond Johnson, Jr, a man who carried two wounded soldiers to safety and died while trying to rescue a third. Once owned by Sunset Riding Club, the club renamed the beach to Johnsons Beach. They then leased the land in 1950 to the county for use by "colored citizens." Although the lease expired, it remained until it became part of Gulf Island National Seashore in 1978.
Fort Barrancas – The fort was first built by Spanish colonists in 1698, and came under American control in 1812. The fort itself is located within the Pensacola Naval Air Station. Visitors can tour Fort Barrancas and the Advanced Redoubt.
Naval Live Oaks Area – Located near Gulf Breeze, Florida, this reservation was once a federal tree farm in the 1700s to the 1800s. The timber from the live oaks was used to build ships. Such ships were once called "Old Ironsides" due to their strength. Today it serves as a recreational area for hikers and beach-goers.
Fort Pickens – Built in 1834, the United States built this fort to increase security to its major ports after the War of 1812. Located west of Pensacola Beach, the area features historic fortifications from the early 1800s through the mid-1900s, as well as miles of beaches.
Opal Beach – Also known as Santa Rosa Day Use Area, this recreational site is located on Hwy 399 east of Pensacola Beach and is one of the most popular beach locations. This beach was born in 1995 when Hurricane Opal flattened the dunes to create a smooth, glittering paradise of sugar-sand beach.
Okaloosa Day Use Area – On U. S. 98 near Fort Walton, this quiet water area has sandy beaches and calm waters perfect for swimming.