Cooking in an Airstream kitchen is about as small as they come. But that won't stop me because I'm also a bit of a foodie and will find a way. I'll make my own fresh cheese, steamed dumplings, bake cupcakes, braised salmon, roast lamb, and stewed chickens. My favorite was Thanksgiving in our Airstream, although I did roast the turkey over a campfire.
After two years of living in an Airstream and whipping up meals, I think I've finally got my groove and I'm able to cook all of our favorite foods. Most of what I own came from my home kitchen before we switched to a nomadic life and my kitchen tool set is a mere shadow of my original. Some of my kitchen items are over 15 years old! So when I sat down to think hard about the things I wanted to take from my kitchen, I came up with a few rules to help me with the selection process before transferring it to the Airstream.
Airstream Kitchen Item Rules
Each kitchen item must have the following qualities:
So material wise, this left us with two options: metal and plastic
At the Dinner Table
Just Enough Silverware
Originally, we owned a set of silverware for 16 people. They were gifted to us on our wedding day some 15 years ago and they also came with steak knives. Keeping only enough for ourselves and a guest or two would be enough. Any more than that and we'd have to go with disposables.
Metal & Plastic Plates & Bowls
I just couldn't see our original chinaware surviving a single trip in the Airstream, let alone a trip across the country. So when I searched online, I turned to camp kitchen items. I already owned an MSR stove, so naturally, I went with MSR's Alpine Stainless steel collection and got two nesting bowls and plates. The big disadvantage of metal plates and bowls is that they transfer heat to the outer surface, so handle with care. For the microwave, I got two plastic plates and bowls since they are super cheap.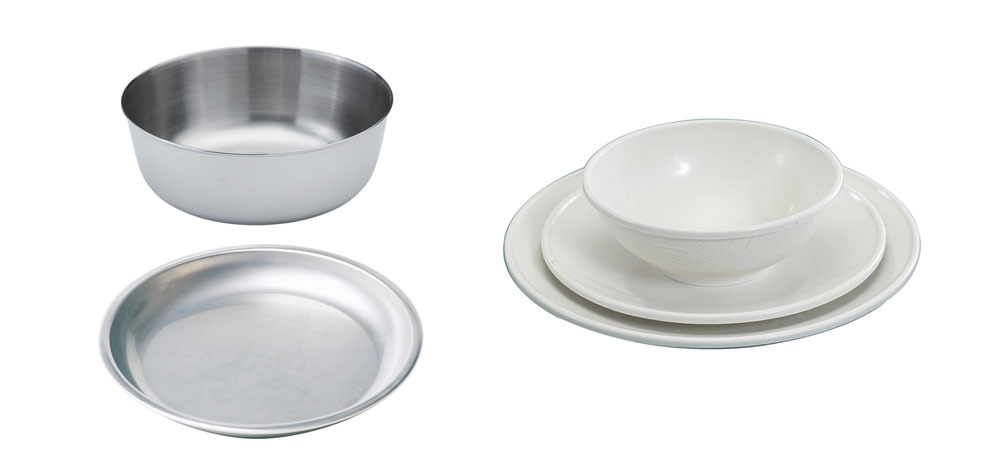 Metal Cups
During our time in Southern Texas, I discovered how much I like ice in my drink. Being from Seattle, Washington, I use to never put ice in my cold drinks because my drink tended to stay cold until I finished it. But in Texas and other hot weather locations, drinks warm up fast. So for Christmas, Hitch got me a 30oz stainless steel vacuum insulated tumbler. I was delighted that ice bits remained after 4 hours and the drink still cool. The tumblers also had the added bonus of keeping hot drinks warm after a number of hours. For those quick gulps of liquid, simple camping cups suited our needs. I should also point out that I'm a klutz with cups, so I'm very happy that we have metal ones.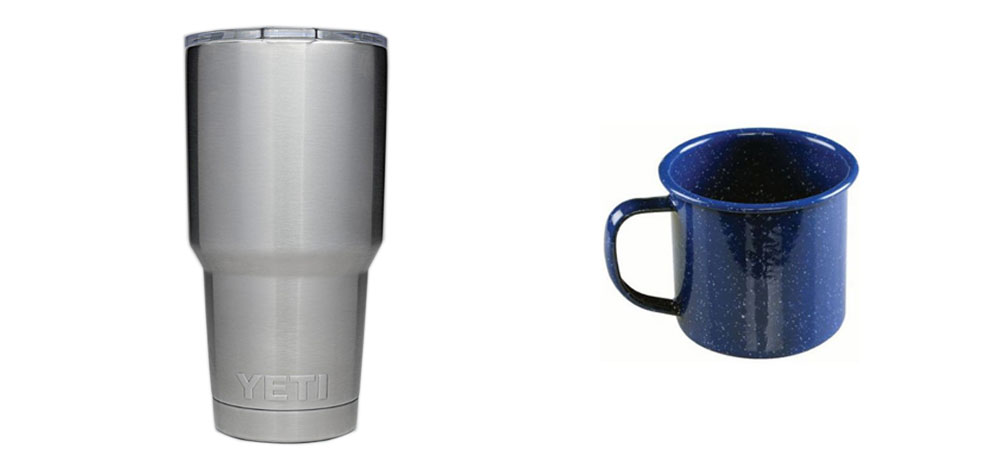 Food Prep
My Favorite Food Prep Tools
From my old kitchen, I brought along some of my favorite tools. I prefer to use spatulas to stir foods while cooking and they double as handy food scrapers to get that last bit of sauce from the pan. I like the high heat resistant kind because I've been known to accidentally leave my spatula in a hot pan.
I am a garlic lover. This means I needed to bring my expensive Kuhn Rikon garlic press. Yes, I got her as a wedding gift. And yes, she's pricey but she presses like a dream! I don't even need to peel the cloves. Plus she cleans up super easy by opening the handles wide and swinging out the press head. Ah, garlic!
Unlike the expensive garlic press, Kuhn Rikon makes a nice peeler for a reasonable price. Again its something a had from my original kitchen. This peeler not only does the standard potatoes and carrots but also butternut squash, ripe tomatoes, and the occasional parmesan and chocolate shavings. Thanks to its carbon steel head it stays sharp nearly forever. Mine's 15 years old and it still works like it did when I first got it.
Why a Microplane? I like fresh ginger in many of meals. To get the best flavor from fresh ginger without the stringy fibers using a Microplane is the best tool. It can also zest citruses, shave garlic, grate hard cheeses, shave chocolates, grate nutmeg and nuts, and my personal fave, shred fresh coconut!
I also brought my favorite stainless steel measuring cups and spoons. I like to level off my ingredients, which is easy since the handles are seamless with the cup. It's the same deal with the measuring spoons, plus they're oval shaped heads fit easily into spice jars.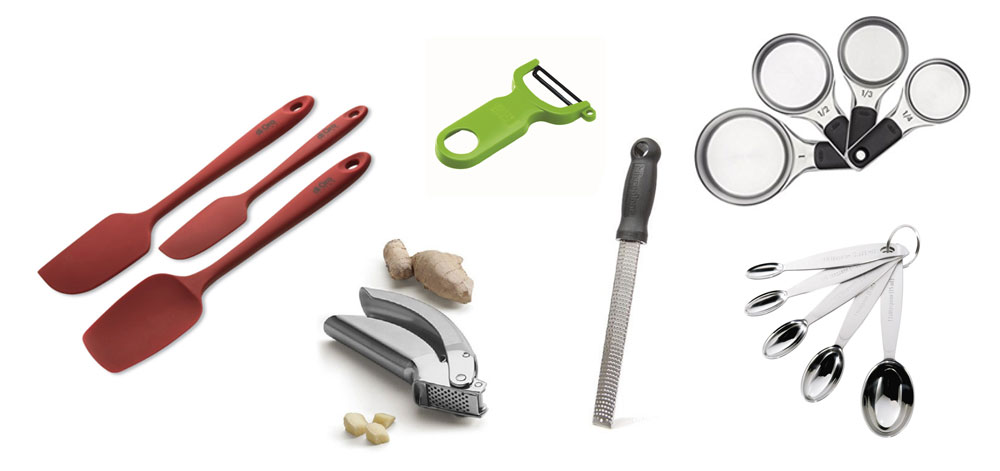 Secondary Food Prep Tools
I like a good fine-mesh strainer for sifting flours or sugars and straining sauces. The one I have is sturdy enough and won't warp in travel nor when I push foodstuff through with a spatula. This is another expensive item, but hey I got it as a wedding present and it still does the job brilliantly.
I also wanted a good colander, but I felt my metal one was too bulky. So I went to Amazon and got a silicone collapsible mini colander. This one also comes with a base that snaps on. So in addition to straining pasta and washing foodstuffs, it doubles as a bowl for dry foods. Its best feature is that it stores relatively flat.
I use to have a full set, but in the end, I just chose the big mixing bowl to bring on the Airstream. It's also just big enough to fit in the dutch oven and use as a double boiler. Along with my mixing bowl I have a medium size french whip or whisk. I don't use the whisk often, but this one is perfect since it's light and great for hand whipping cream and egg whites. I'll also use it with my sauce pan when making gravies or sauces.
Lastly, I have my can opener. I mostly open cans of tomatoes, be it diced, whole, crushed, or sauced. Hitch likes the occasional canned chili. I usually try to buy vegetables fresh, but sometimes all you can get comes in a can. The one I have is Zyliss' previous model. The new one has magnet for lifting the lid out of the can. FYI: be careful of fakes when you buy online and get it from Amazon.com itself.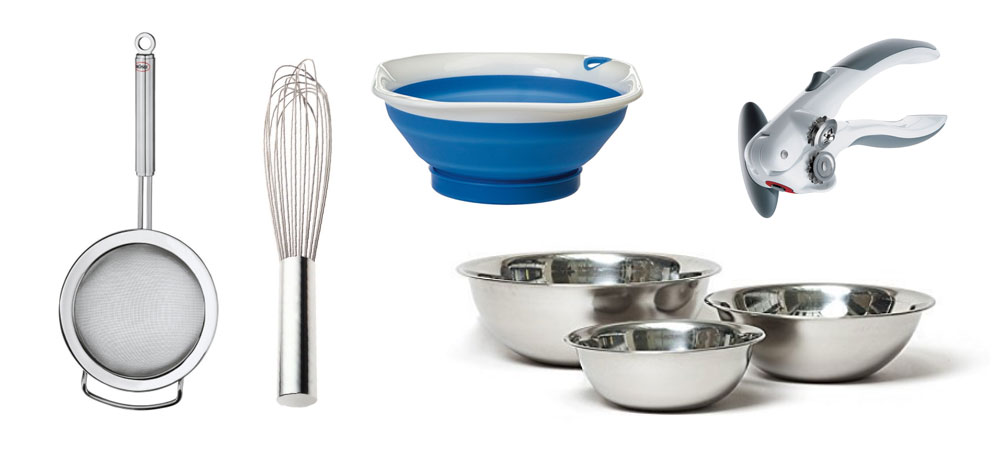 Serving It Up
Out of all the serving utensils I have, I use the tongs the most. I use them grab hot foods from the pan and from the oven. They're super handy for grasping objects in hard to reach places. Since mine has a high heat-resistant silicone covering, I don't need to worry about scraping my non-stick skillet. It's the same deal with my high heat-resistant turner, no worries when flipping burgers, flapjacks, and other flatish foods.  Occasionally, I'll make stews, soups, and other dishes that need a big spoon to scoop. I didn't need anything fancy and went with the basic nylon spoon and ladle.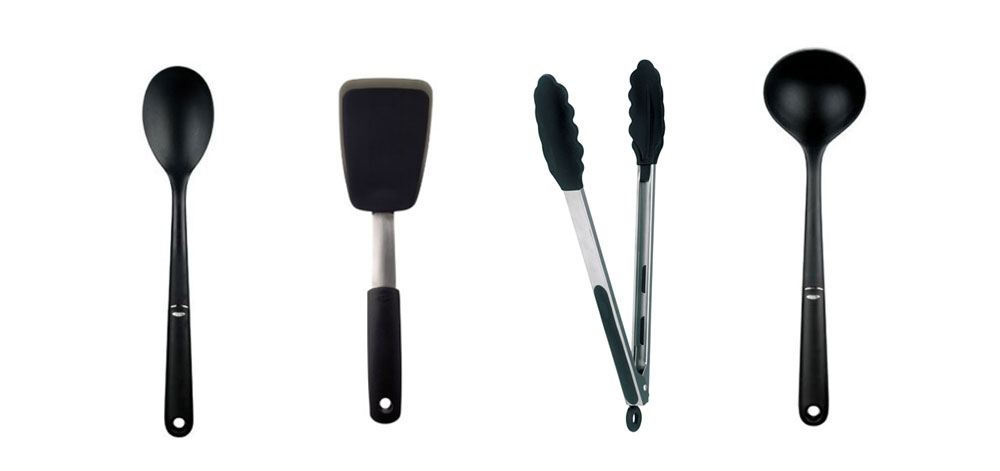 Cooking Over a Small Gas Stove
Living in an Airstream just isn't home without a good nonstick skillet. A ten-inch skillet also happens to be a perfect size since it doesn't crowd out the other burners. Along with my pan, I have a simple 1.5-quart saucepan, also known as the pot. Between the two, I can pretty much cook up any stovetop recipe. For my one-pot dinner jobs, I turn to my dutch oven. I've brewed many tasty goodies in my dutch oven, but our go-to recipe is curry so we often call her the "curry pot." To grab hot handles, I use simple terry cloth potholders.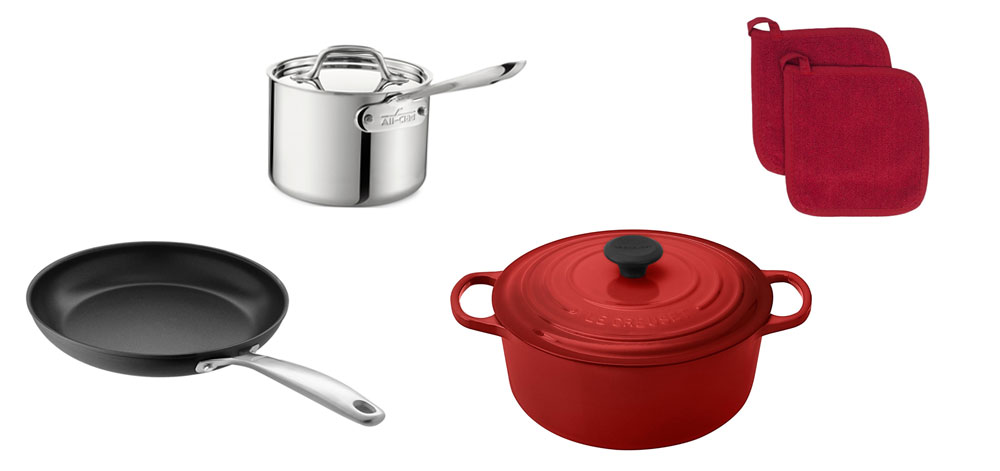 Baking in Convection Mode
Our Combo Oven-Microwave took time to get use to and I had to come up with some interesting solutions. Since the oven is small and I'm only baking for two, I ended up with only two baking tools: the pie pan and baking sheet. I use my pie pan not only for pies, but also dinner rolls, cobblers, bread, cinnamon rolls, brownies, scones, biscuits, and cookies. For roasting, I go for the Quarter Baking Sheet and I'm thinking about getting rack to fit in it so I can lift the meat from drained fats and juices. If I need a special mold like a loaf pan or cupcake pan, I'll use the disposable aluminum kind found at any local supermarket. The toughest part of baking and roasting using the convection oven mode is getting the temperature and timing right. I usually have to raise the temp and increase the time needed, depending on the recipe. FYI: I wouldn't use metal while the oven is in Microwave mode.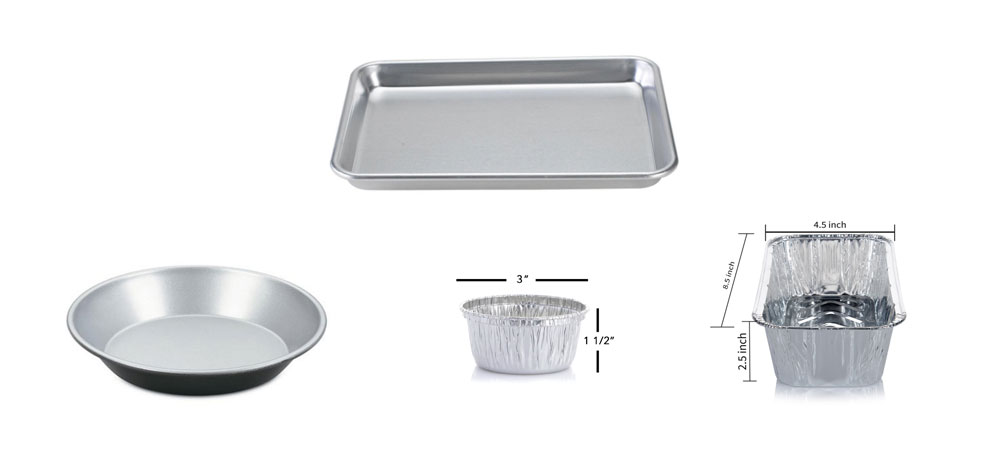 And there you have it, that's all of my basic kitchen tools for cooking and serving meals. I know some of the items listed here are kind of expensive, but that just reminds me of how much our family loves us when they got us such nice wedding presents ages years ago. Next up: Pantry Organization!