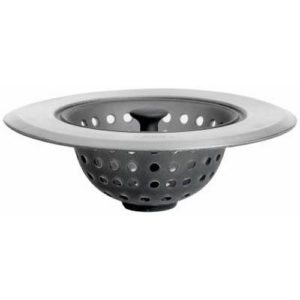 Sometimes you start using a product and think, "Why the heck don't they all work like this?" For those of you who have not had that experience with a sink strainer, I present to you The OXO Good Grips Silicone Sink Strainer. Or as I think it should be called: The Sink Dominator Nine Thousand, SD9K for short.
RV plumbing is such that the less solid material that goes down the sink drain the better. Thus, having a good sink strainer is important. The one that comes with the airstream is pretty much your typical sink strainer and stopper. It has a serious flaw in its design. It sits down inside the drain with its exterior walls almost touching the drain walls. While most of the food that goes down the drain catches in its metal basket, a fair bit of it sticks into the cracks between the strainer and the drain wall. When you try to pull it out to clean it, that food falls into the drain, even if you are trying to be very careful.
The SD9K, on the other hand, sits on top of the drain, completely covering it. Water flows over the lip of the strainer and then through its basket. There is no way for the food to get under or around the strainer with this design. When you lift it up to empty it, all the food stays in the silicone basket. The fact it is silicone is the other big win. The metal strainer likes to hold on to the food that gets in there. You have to give it some good tapping in the garbage to try and get it out, often causing some of the food to fly about and often without complete success. The silicone basket of the SD9K can be easily inverted over the garbage and all the food falls out very nicely with minimal shaking or tapping.
To top it all off, it just looks nicer in the sink. It's also less likely to scratch the sink, weighs less, is easier to clean, and makes less of a racket if you drop it in the sink. It only has one weakness, it is not a stopper. If you need to fill the sink, it won't do you much good and you will have to use the old, and now much-hated old one. OXO makes a silicon strainer with a stopper feature, but the reviews cast doubt on its reliability as a stopper.
For around $8 I think it's a great deal, and well worth the expense. Every time I empty it out I remark at how much easier it is to work with and how much better it works. You can order one or more up on Amazon or hit up wherever you shop for kitchen gear.