One thing I found challenging when going on the road was figuring out what kind of hitch I needed to buy. I had no experience with towing and I found the terminology and options somewhat bewildering. Hopefully, if you are in the same situation this guide can help you sift through the information. While it is written with towing an Airstream in mind, you may find it a good primer on hitches in general. I'll start with some terminology, move into talking about weight distributing hitches, discuss how to select a hitch, and finally give some recommendations on what I think you may want to buy.
Hitch Vocabulary
The first thing to keep in mind is that the word hitch is often used to refer to different components, all of which are needed to tow your trailer. My truck has a hitch built into it, yet I still had to buy a hitch to tow my trailer. This stems from the fact there are many types of hitches, some of which have more components than others. Because of this you can buy nearly every part separately and are often referred to simply as a hitch. Let's break down the components.

For starters, your vehicle will need to have a receiver installed on it. The Receiver will have a square socket that sticks out the back of the car. On lighter vehicles, the Receiver may attach to the bumper. These are not suitable for towing a travel trailer like an Airstream as it could well pull the bumper off the vehicle. For heavy loads, you want a receiver that is attached to the frame of the vehicle. Receiver sockets come in a few different sizes, generally the bigger they are the more they are intended to tow. The steel frames also come in different weights called classes from class 1 to class 5 with the larger class having a greater towing capacity. For an Airstream, you want a class 3 or better receiver.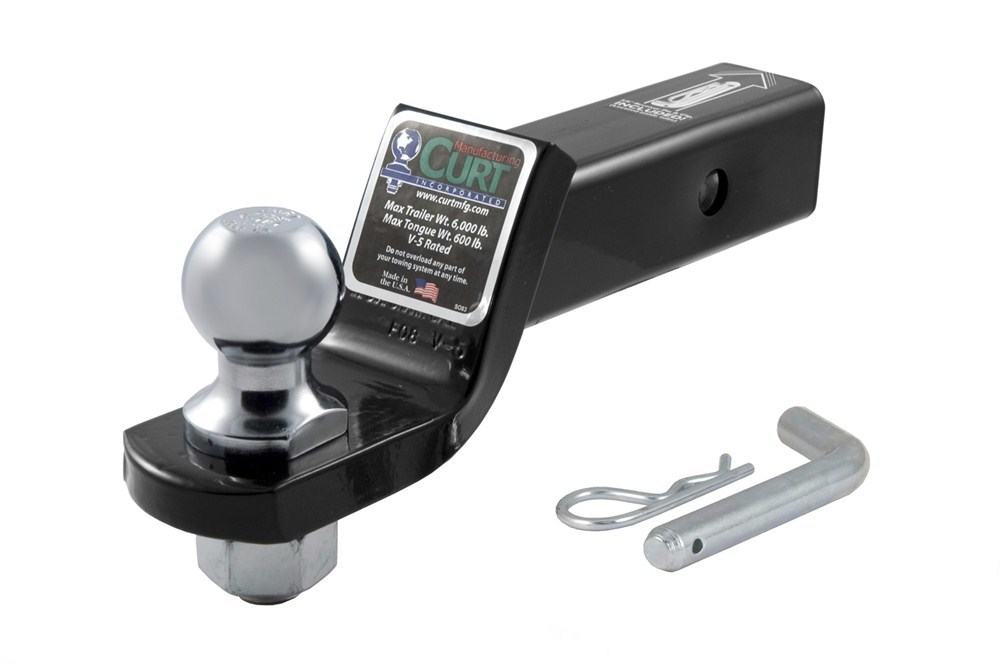 Into the receiver, you will be using some kind of hitch ball Mount. It has a shaft that fits into the Receiver, locking with a Hitch Pin and a hole in which to attach a Hitch Ball. In the case of towing an Airstream, the mount is the weight distributing hitch we mentioned earlier. There are simple Mounts that are nothing more than a straight shaft, others that allow you to position the hitch ball vertically. Then there are complicated mounts like the weight distributing and sway control hitches. These include tension bars and other mechanisms that help level out and control the trailer's movement. We will get into details a bit later on these as they are required to tow an Airstream.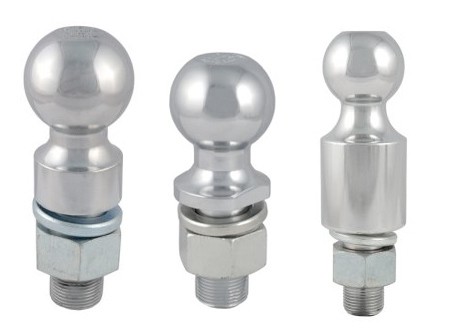 Finally, we have the Hitch Ball which is simply a metal ball on a post. They come in different sizes which you need to match your trailers Coupler. The Coupler is simply the open socket the Hitch Ball rests in when the two are attached. It has a Latch to lock the ball into place. The Coupler on most trailers is attached to its Tongue. The Tongue is generally a V-shaped frame on the front end of the trailer.
Modern Airstreams use a 2 and 5/16th-inch ball and socket. Older airstreams (roughly before 1969) use a 2-inch ball and socket but were updated when the government standards changed.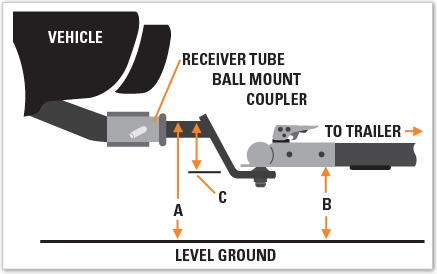 Collectively the Receiver, Ball Mount and Ball are the hitch, though again you may see each component on its own called a hitch while shopping and each is generally sold separately. The Coupler and Tongue are part of the trailer and not part of the hitch.
Weight Distributing Hitches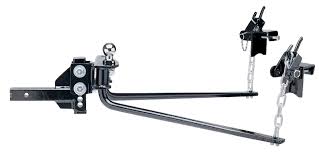 Because this is about towing Airstreams we will talk about "weight distributed hitches" which Airstream recommends/requires for towing all Airstream models. Weight distributed hitches are designed for towing heavy loads, usually between 2,000 and 10,000 lb. They include steel spring bars in their design and their purpose is to get the tow vehicle and trailer on an even plane when attached together. Without one what happens is the trailer pushes down on the tow vehicles rear suspension so much they form a V shape. This means the front of the vehicle has poor traction and braking, both of which can cause serious problems.
Some weight distributing hitches are also designed to control trailer sway which is when the trailer swings from side to side even though you are going straight. This is usually caused by crosswind hitting the trailer which can come from the environment or from passing or being passed by other vehicles at high speeds. The swing arms reduce sway somewhat, as where other hitches promise to do so dramatically or eliminate it entirely. These mechanisms are referred to as sway control and can take a few different forms but often involve extra struts attached to the tension bars giving them more horizontal resistance. You can also by third-party sway control bars to use with a weight distributing hitch that does not have them.
Heavy Metal: what is my hitch weight?
Before you select a hitch you need to know how much weight you will be towing. There are two numbers you will want to have at hand: Tongue Weight and Trailer Gross Weight. Both can often be found in the paperwork that comes with your trailer if you bought it new, or from the manufacturer's website. Tongue Weight is how much pressure the tongue of your trailer pushes down when it's resting more or less level. Gross Weight is simply how much your trailer and everything in it weighs. Since I like to be on the safe side I estimate this as equal to the how much it weighs if fully loaded according to the trailer paperwork. You can also measure a trailer using a truck scale, but you aren't likely to get it on one until you already have it hitched up so that's not so helpful. This Handy Tongue weight calculator can tell you what the tongue weight is based on Gross Weight and some measurements you can easily make yourself.
With the weight information in hand, you can narrow down your search to hitch components that meet or exceed the weight of your trailer. Generally, you want to look for something where your weight is inside the minimum and maximum range. A little too high is still better than too low but don't overdo it. With a weight distributing hitch, too high a weight rating can make the hitch too stiff which can be hard on the suspension and make it more difficult to handle.
If you need to buy a receiver for your tow vehicle you need to make sure that the vehicle itself can handle the weight. There are a number of factors at play there so check out my guide on tow vehicles or consult an expert in your vehicle.
Picking out a hitch
Even with a good understanding of the hitch basics, picking one out can be a challenge. There are many manufacturers and designs. Often each has its own patents and designs and claim theirs can do what no others can. Even when you pick a given manufacturer they tend to have many models of varying cost and complexity. Here are some factors to keep in mind.
Reputation – Start reading reviews, generally most manufacturers have their fans and detractors
Price – This varies widely from the cheap ones at around $100 up to those in the $1200 range
Ease of use – The ease of hitching and un-hitching your trailer can matter a lot depending on your strength and aptitude
Installation requirements – Some only require simple tools, others more drilling and the like.
Generally, you will get the best deal by shopping online. Amazon is always a good bet to start shopping for good deals and easy shipping. I found that dealers and local hitch shops tended to have a very limited selection and often had to order anything specific you were looking for.
The easy way out
If you buy your trailer from a dealer of some kind they can select and install your hitch for you. Typically they will know what they are doing and can select a good hitch for your trailer and tow vehicle provided you get all the information for them they need to select one. (If they don't ask, don't trust.) The downside is you will generally pay a lot more for it than if you select it yourself and you will have to take whatever they stock. The upside is you don't have to give it much thought and they are not likely to make any serious mistakes.
I ended up taking this route myself, though it cost me around $400 more than I could have gotten the same hitch myself for and I'm not a huge fan of the Hitch they chose. Still, I was somewhat pressed for time and was still a little uncertain about exactly what I needed at the time. If the one I got ever fails, I'll probably go for a different brand.
Recommendations
My 30-foot stream trailer has a loaded Gross Weight of around 8,000lb and a tongue weight of about 900lb. My truck already had a receiver rated up to 11,000 so I didn't need to do anything there. As I mentioned I ended up letting the dealer select and install the weight distributing hitch (and I paid far too much for it as a result). This is what they installed: Blue Ox BXW1000 SWAYPRO Weight Distributing Hitch 1000lb Tongue Weight.
It does do the trick but I have two issues with it. Firstly its sway control is somewhat limited and at higher speeds or when passed by large vehicles there is definitely more trailer sway than I'd like. The second is that it is simply super heavy and awkward. It weighs just short of 90lb, has two heavy swinging steel arms, and few good places to hold onto it. I've both pinched my fingers and broken nearly every container I've tried to store it in. Ox is a fitting name for it. Mind you I'm sure it is quite sturdy and will probably last for a great long time.
The hitch I'd picked out for myself, but which I don't have practical experience with is this one: Reese 66074 Strait-Line 1200 lbs. Trunnion Bar. It has specific sway control struts and is just a bit lighter in construction while being rated for a higher weight.
Other stuff you will want
Grease and Grease Gun for your hitch ball and receiver
Hitch and Receiver pin locks to secure your trailer and hitch
Neon Tape to mark off chain-lengths and hitch depth and make tools harder to misplace