When we first got our 2016 Airstream International Serenity nearly three years ago I spent a few days pouring over the manual. When I reached the Maintenance section, I read it several times trying to decipher the instructions. Having never owned an Airstream before, I ended up getting "Airstream Life's (Nearly) Complete Guide To Airstream Maintenance" a handy book written by Rich Luhr of Airstream Life Magazine. We also watched YouTube videos put out by seasoned Airstreamers, and read many web blogs and articles. In a month or two we came up with plain to maintain our Airstream.
Airstream the company gives a detailed list of maintenance items to perform for your trailer every 60 days or every 1,000 miles. The tasks are pretty easy to learn and take 10-15 minutes to perform. There are tasks for every 90 days, 6 months and annually, but I'll write a different blog post for those.
1. Check Battery Water Level
Airstream recommends checking the water levels every 60 days or 1,000 miles. This of course only applies to wet-cell or Lead Acid batteries. Most modern Airstreams come with two Interstate SRM-24 Deep Cycle batteries. If you have Glass Mat Batteries you can skip this maintenance task.
If the Airstream's charging system is working well and you've charged your batteries regularly when in storage, then water levels may be fine and no additional water is needed. When you hook up your Airstream to shore power (20, 30 or 50 AMP service) AND the battery connect is ON, the charging system should be juicing up your batteries. When the Airstream towed, the 12-volt batteries should be receiving a constant charge from the tow vehicle's generator via the 7-way connector. Whether you are on shore power or connected to your tow vehicle, the battery connect should always be on to ensure that your Airstream batteries are being charged.
As the batteries age or if you are using your Airstream in extremely dry climates, you may find the water level low any or all of the cells.
Keep in mind that, you'll also want to double check the manufacturer's instructions for maintenance for your specific batteries before performing any maintenance tasks. Given that, here are some basic rules for maintaining your Airstream's Lead Acid Batteries.
Regularly recharge your batteries every 2 to 3 months if your Airstream is not in use and in storage.
Add distilled water when the electrolyte level falls below HALF-INCH above the plates.
Only add DISTILLED WATER to your battery's cells.
Do not overfill – Keep the water level 1/8 of an inch below the battery's internal vent well.
2. Airstream Escape Window
Like many modern Airstreams, our escape window is located in the bedroom area, which for our model is in the back of the trailer. The Airstream escape window is clearly marked with a sticker, red patches, and red handles. As a part of my 60-day maintenance, I simply check if the latches and the upper hinge open easily. If they don't, we lube the latches and hinges with a drop or two of silicone lubricant.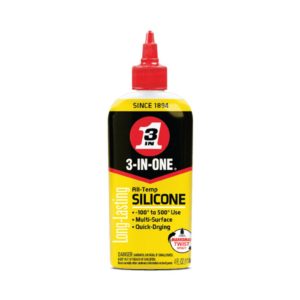 3. Test the Smoke-CO Alarms
We have two smoke & CO combo alarms: one in the front in the living area, and one in the back in the bedroom. To test the alarm, simply press and hold the test button until it starts to beep loudly. If nothing happens, it's time to replace the internal battery. If testing fails with a fresh battery, its time to get a new Smoke-CO Alarm.
4. Check the Tire Pressure
Every modern Airstream comes with a sticker that states the tire pressure requirements. For us, the specification tag was located on the front roadside of the trailer and contained tire and loading information along with vehicle manufacturing info. Given your Airstream's size and model, the pound per square inch or PSI will be different. The tires' make, model, and size will also change the PSI requirement.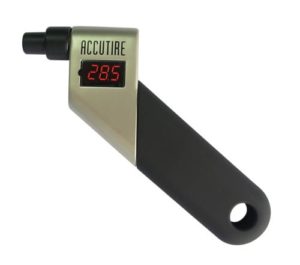 Our 30-foot 2016 International Serenity is fitted with a total of four Goodyear tires on two axles, each with a size rating of ST225/75R15. This roughly translates to a recommended tire pressure rating of 65 PSI for each tire. I should note that the best time to test tire pressure is in the morning before you drive. Driving and the sun both heat the tires and change the pressure reading. The Airstream manual often calls the recommended tire pressure as "Cold Tire Pressure."
If you can't find your sticker with the PSI recommendations, I highly recommend visiting an Airstream shop. You can also calculate the PSI, but that merits its own blog post at a later date. My husband has plenty of thoughts about RV Tire Pressure if you're interested.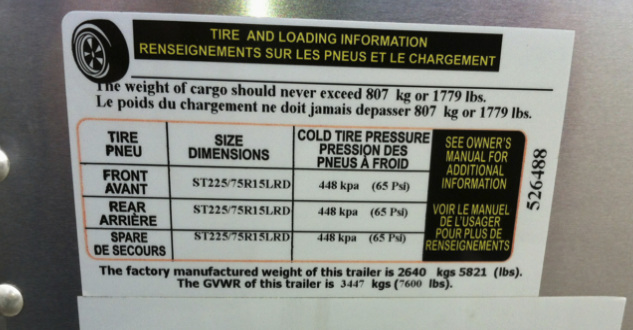 5. Check the Hitch
The hitch is the lifeline of your Airstream when on the road. It's a good idea to check for loose bolts or unusual wear. Since we have a Blue Ox SwayPro Hitch, we also check to see if it needs grease as a part of our 60-Day maintenance list. Using a grease gun, we grease both grease zerks on the fronts of the bar pivot with molybdenum grease, making sure to wipe away excess grease after application. We also do some light cleaning on the hitch ball and add fresh molybdenum grease with a grease gun.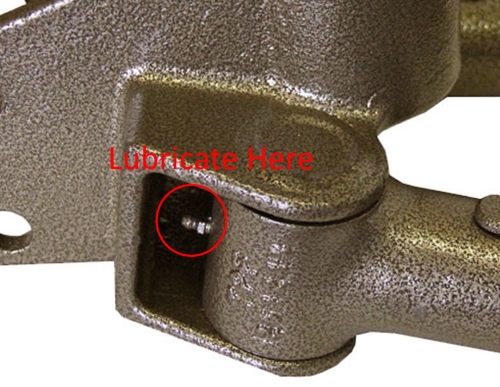 6. Test the GFCI Circuit Breaker
A Ground Fault Circuit Interrupter or GFCI constantly monitors electricity flowing in a circuit. This type of circuit breaker shuts off electric power when it senses an imbalance between the outgoing and incoming current. They are commonly found on outlets with a TEST and RESET button or within a converter box on a Circuit Breaker with a TEST button.
According to our Airstream manual, here's how to test a GFCI receptacle:
Push the RESET button (if it has one) located on the GFCI receptacle first to assure normal GFCI operation.
Plug a device, such as a night light, with an ON/OFF switch into the GFCI receptacle and turn the product to the ON position.
Push the Test button located on the GFCI receptacle. The device should turn off.
Push the Reset button, again. The device should come on again. If the device remains on when the test button is pushed, the GFCI is not working properly or has been incorrectly installed (wired improperly). If your GFCI is not working properly, call a qualified, certified electrician who can assess the situation, rewire the GFCI if necessary, or replace the unit.
Our 30-foot 2016 Airstream International Serenity has a GFCI Circuit Breaker instead of GFCI outlets. The breaker is connected to the outlets for the TVs, Bath, Galley, Outside, and Dinette area. So we put the night light in one of those outlets before using the TEST button.