When we last visited Canyonlands National Park some odd years ago, we mainly focused on a section of the park called the "Island in the Sky." Canyonlands filled my heart with wonder and amazement. We saw vast views filled with sheer sandstone cliffs against a flame and copper sunset and explored overlooks showcasing a spectacular landscape. So naturally, during our next visit to Canyonlands, we aimed to explore the Needles District.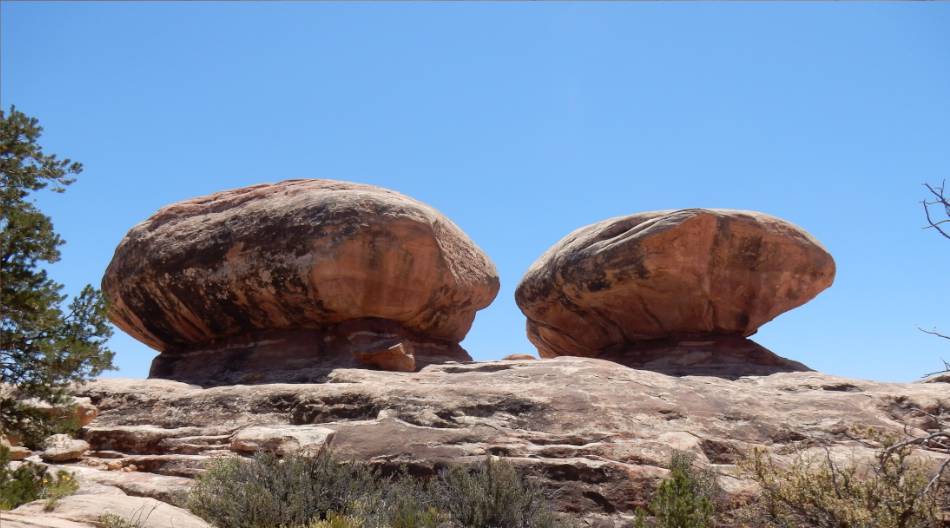 Why is it Called "The Needles"?
Upon visiting the Needles for the first time, it is obvious how the area got its name. Located south of "Island in the Sky" and east of the Colorado River, the land is covered in huge red and white banded rock pinnacles reaching toward the clouds. From an extremely far distance, they look like needles piercing upward.
Cedar Mesa Sandstone
In addition to pinnacles, the Needles district also contains other kinds of rock formations such as arches, grabens, and potholes. Much of the rocks in this area are composed of a material called Cedar Mesa Sandstone. The sandstone spires rise hundreds of feet and form a network of canyons and grasslands interspersed between them.
About 200 million years ago when the tectonic plate movement broke Pangea into two continents, the Canyonlands and much of Utah was a dune-filled desert on the boundary of a shallow sea that extended to what is now California.
In this ancient land, wind-whipped and strewn sand across creating a layer of white sand. Today you can see that once-sand-now-rock in the layers in the pinnacles of the Needles. Regular floods from nearby mountains (present-day Grand Junction, Colorado) would submerge the sand with red sediment. That sediment forms the red rock layers contrasting against the white sandstone.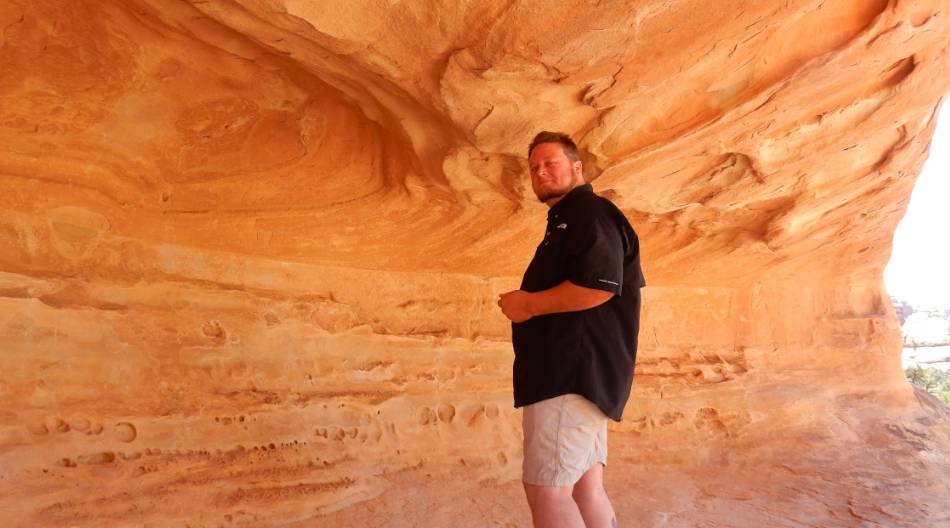 Getting to the Needles
To get to the Needles park entrance takes about an hour and a half from Moab, UT by car. Monticello, UT, is technically the nearest town and it still takes about an hour to get to the Needles. If you want to make the most of exploring this fantastic area, you either must head out early or camp in the park.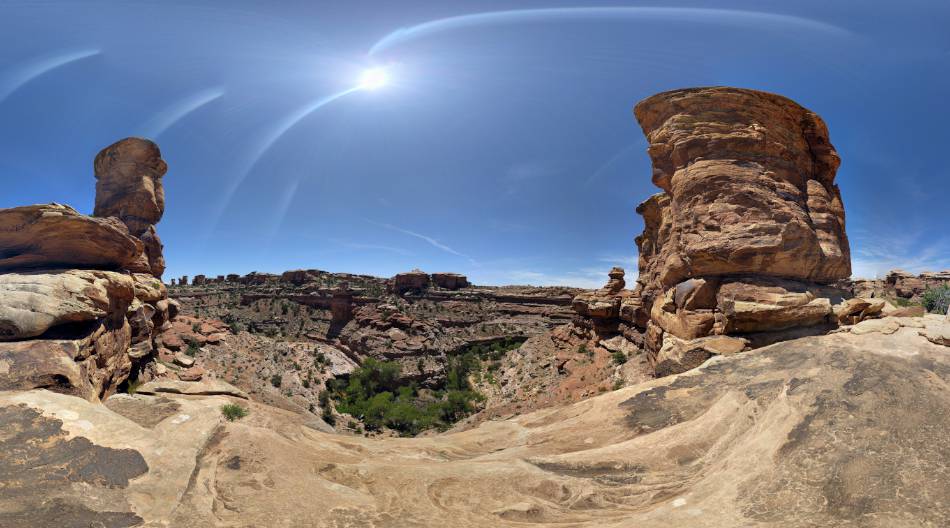 Exploring inside The Needles
Over 60 miles of interconnecting trails weave in and out of the pinnacles, slot canyons, arches, and other beautiful rock formations. Unlike Arches National Park, the area is somewhat harder to reach. The paved roads will only take you so far into the Needles, and the rest must be driven with high clearance 4-wheel drive vehicles, such as a Jeep or Land Rover. Thanks to the rough terrain, some of the most beautiful arches and sceneries can only be accessed on foot.
Be Prepared!
GPS and cellphones often cut out while in the Needles. For our trip, we got the National Geographic Canyonlands National Park Map Pack. We also made a stop to the visitor center the day before to get additional maps and to see if there were any road or trail closures.
We also got fantastic advice from the Rangers on places to see and how to get there. Armed with maps, sound advice, and my trusty Sunnto Compass (which I've owned for nearly two decades now) we felt prepared for a day hikes in the Needles.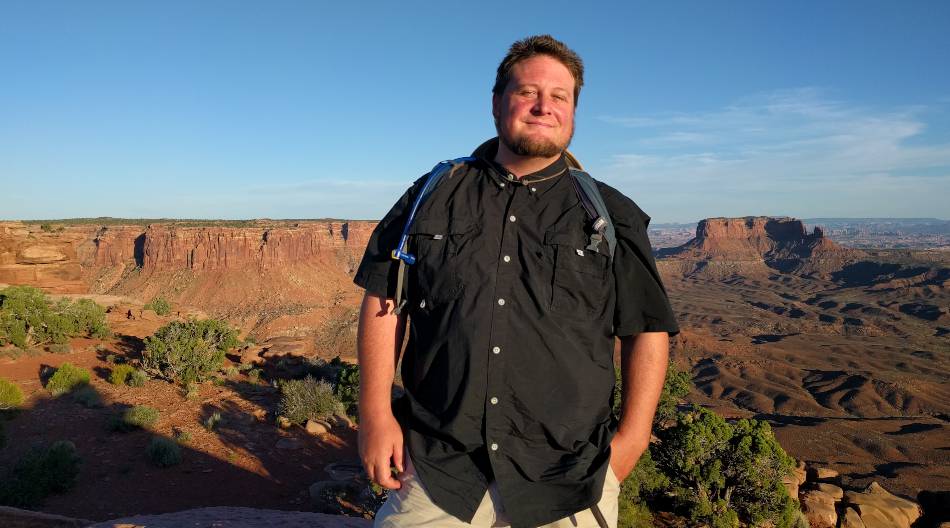 Suggested Day Hikes
Pothole Point Trail
Pothole Point Trail is a short but sweet hike that traverses sandstone dimpled with pockets. Also known as potholes, they hold not only rainwater after but life! If you look closely you can see tadpoles, krill-like creatures, desert shrimps, and tiny desert insects that can only breed within these pools after a monsoon. Each pool is a curious ecosystem extremely sensitive to the slightest change. The park posts signs asking visitors not to disturb the potholes by touching and walking around them – even when dry.
The Pothole Point trail is a little under a mile long and takes about 40 minutes (more or less) to hike. Just follow the cairns and stick to the trail.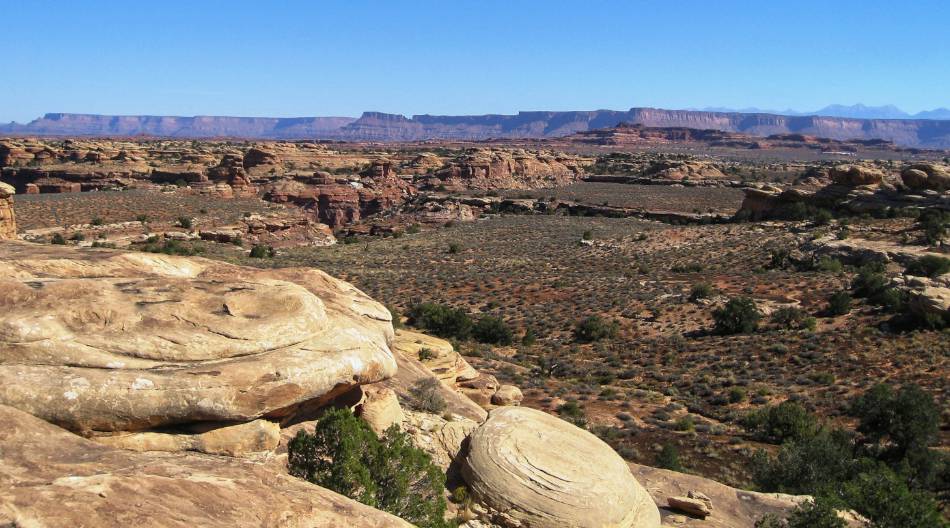 Cave Spring Loop Trail
Another short hike that features a bit of history of the Needles area. This loop takes about 40 minutes to traverse over a mile, including scaling two ladders to complete the route. You will pass by the ruins of a historic ranching camp left there since 1975, then rock art left by ancestral Puebloans over 1000 years ago. The trail also offers lessons on local desert plant life through interpretive signs.
The trail then loops around a Canyonlands Mushroom rock, with cairns leading you across slickrock where you can get a distant view of North and South Six-Shooter Peaks and the Needles themselves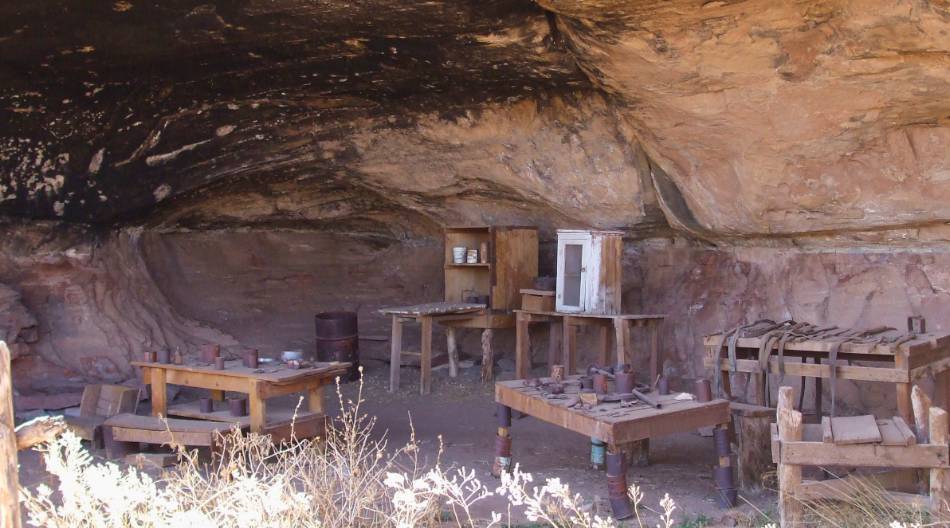 Slickrock Loop Trail
This is another short but sweet hike lasting only 2.4 miles and an hour, but you will want to take your time to ogle at the beautiful 360-scenery — we certainly did! The trail starts at Big Spring Canyon Overlook and crosses over a sandy area and crossing a gully before reaching the loop properly. When you reach the junction, the trail then climbs across a sandstone plateau with trail cairns leading the way.
The east rim features an overlook of Little Spring Canyon and distant views of the La Sal Mountains. Further along, is a great view of Big Spring Canyons against the crimson cliffs and faraway mesas beyond. On the west rim, you will stand next to Big Spring Canyon and be able to get a good look at the layers of rock.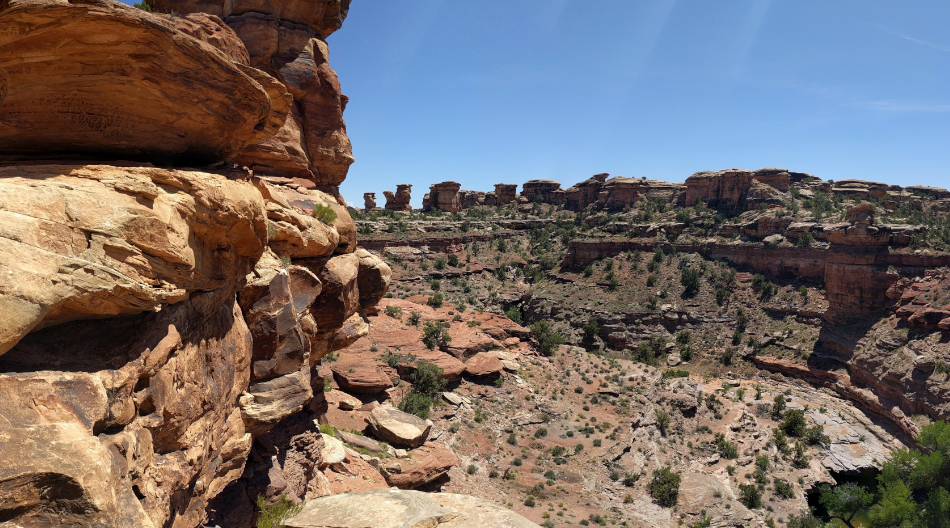 Druid Arch Trail
This in-and-out trail takes you on one of the most spectacular views of the Needles area, but be prepared for a long trek with a lot of ups and downs: the hike takes roughly 4 to 5 hours over 5.5 miles, and four junctions requiring keen eyes to spot.
You'll enjoy walking between gaps of lesser pinnacles then down to the floor of Elephant Canyon, and then past the grassland of Chesler park along a stream bed. As you continue along the stream bed, a sandy trail, you'll cut left passing several potholes and travel up toward the rocky part of a trail. Then the trail leads through narrow channels and a stone staircase. The final part of the trail climbs up a gully, over a boulder and then a hill leading directly to Druid Arch.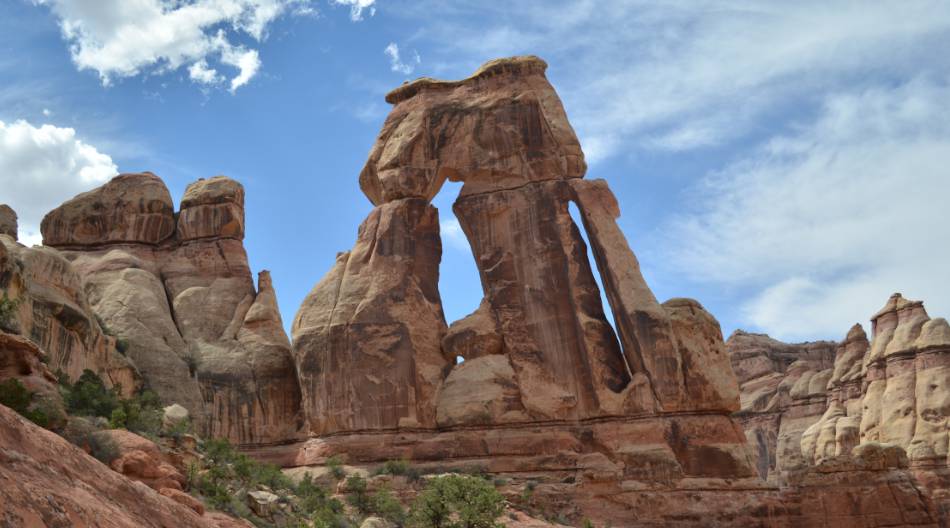 Chesler Park Loop Trail
Chesler Park Loop Trail is by far the best trail in the Needles, but it takes a lot of sweat equity, water, and the whole day. It might be better to backpack out to Chesler Park, stay the night and then hike the loop. You could do it in a day if you start early and have plenty of water to bring along. Regardless, you'll be rewarded with splendid desert grasslands surrounded by amazing sandstone formations.
Starting at Elephant Hill, the hike out to the Chesler Park Loop Trail is roughly 3 miles long. The loop is 5 for a total of 11 miles if you decide to do it in one day. The trek is strenuous, with numerous ups and downs, various terrain including uneven rocks, slick rock, and sandy streambeds. I would suggest that you not attempt this during the summer since day temperatures often exceed 100° F or 38° C.
If you are a fan of geology, then this hike is for you. You'll weave through pinnacles, squeeze through slot canyons, marvel at curious mushroom rocks, scramble across slickrock, shimmy through joins, dip through canyons, and take in the views atop a mesa. Altogether, they make a really memorable hike in what felt like another world!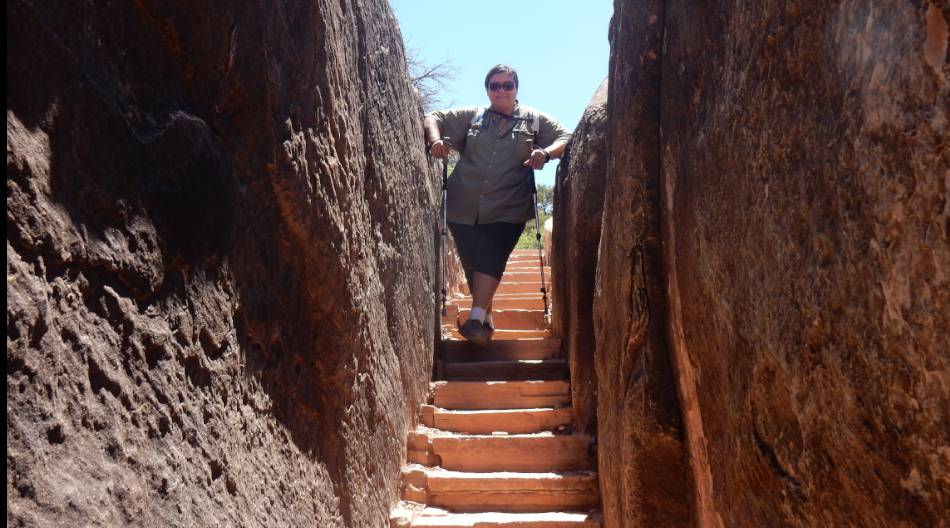 Joys of a Rugged Landscape
I love Canyonlands for her rugged almost alien landscapes. And despite the remoteness, the Needles shine like jewels as the rising sun kisses the stones, almost urging you to explore and discover the wonders that await.