Romance and Adventure two wonderful life experiences made all the more exciting when paired together. Trail challenged me to come up with a Trail and Hitch article for valentines day. Something perfect for our audience. Something that might have some Amazon affiliate links in there for good measure. I said, "Kiss me darling and I will be inspired!" And she did, and I was, and here it is. 5 Romantic Stories of Real Life Adventure!
Martin and Osa Johnson
Martin Johnson was a part of Jack London's voyage across the pacific in 1907. He later toured America recounting stories of the voyage and met Osa Leighty while in Kansas. By 1911 they were married and set off on their first grand adventure to the Solomon Islands where they were famously held captive by the Big Nambas tribe. They escaped with the help of British gunboat. Using film footage from their journey they created their first film Among the Canibal Isles of the South Seas. They returned the next year to the same tribe to show them the film. This time with armed guards, but they were not necessary as the Big Nambas were delighted on seeing themselves in the motion picture.
Their adventures continued taking them all around the southern hemisphere where they continued to film remote tribes, wildlife, and the amazing vistas they found. Along the way, they met with King George and Queen Elizabeth, led eagle scouts into East Africa, were the first to film in sound from a plane, and even appeared on the Wheaties Cereal box together. Tragically Martin perished in a plane crash in 1937 but Osa continued her adventuring ways until her own passing in 1953.
You can read about their life in Osa's renown book: I Married Adventure
You can watch their real life adventures in their many films such as: Simba King of the Beasts
Lady Jane Franklin and Lord John Franklin
This is a tragic love story. Lord John Franklin was a Rear Admiral in the Brittish navy. He was both renown for his military service such as in the battle of Copenhagen and as an intrepid explorer in the arctic waters north of Canada, searching for the Northwest passage. In one harrowing journey, his crew was forced to survive on Lichen and the soles of their shoes. He lost his first wife to Tuberculosis just 2 years after marriage. John Franklin married Jane Griffin a friend of his late wife's in 1828. In 1982 John saw knighted and they became Lord and Lady Franklin. In 1836 Lord Franklin was made Lieutenant Governor of Tasmania. There Lady Jane founded a university, museum, and gardens. She also took up exploring and mapping the southern coasts of Tasmania with her Johns Neice Sophia Carcroft when her husband was on his naval expeditions.
In 1845 on his third expedition to find the northwest passage in the arctic, John Franklin's expedition goes missing. Distraught and determined not to give up on her husband, Jane charters a series of naval expeditions to find John and relocates to the northern reaches of Scottland and the Isles to be as close to where he was lost as possible. She searched for seven years until his death was confirmed. Jane refused to believe the rumors the ill-fated expedition had resorted to cannibalism and many years later chartered another expedition to try and find the records from the journey. She died while it was in route and ultimately they were forced by the weather to return empty handed.
You can read about Tasmania Jane in: The Ambitions of Jane Franklin: Victorian Lady Adventurer
John Franklin's lost expedition is detailed in: Frozen in Time: The Fate of the Franklin Expedition
Isabel Grameson – Jean Godin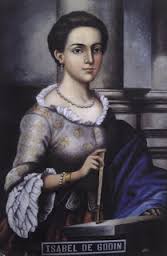 Another tragic tale but with a happy ending this time. Jean Godin des Odonais was a french cartographer, part of a geodesy expedition in 1735 to what is today Equador to try to determine the roundness of the earth through precise measurements along the equator. It was there he met and married Isabel Godin des Odonais. She was 14 and the daughter of a Spanish administrator in 1741. When the expedition was done he decided to remain with his wife as she was with child.
When Jean learned that his Father had died, he planned to return to France with his new wife and children. He went ahead to arrange the trip but became stuck in French Guana because the French and Portuguese authorities refused to allow him to travel through their territory back to the eastern side of South America. For 20 years he worked to gain such permission while his wife watched their children die of smallpox and received no word from her husband.
Finally, he persuaded the Portuguese king to grant permission and charter a ship to travel up the Amazon to retrieve his wife. Jean became suspicious and fearful for his life and got off the ship at the first port of call up the river. The ship however continued and word eventually reached Isabel that a ship was waiting to take her to her husband. She set out with 41 other relatives and servants to make the journey to where the ship was docked on the amazon. The ill-fated group suffered numerous mishaps and in the end, only Isabel lived, wandering the Jungles alone for 9 days in the jungle before finding help from a native group.
In the end, she was reunited with her husband and they returned to France together, her harrowing story of survival becoming a famous tale of the time.
You can read about Isabel's nightmare journey to reunite with her Jean: The Mapmaker's Wife: A True Tale Of Love, Murder, And Survival In The Amazon
Patrick and Rosemarie Keough
Most of our stories are from the past, and I wanted to highlight a contemporary couple who travel and explore together. Patrick and Rosemarie Keogh are renown wildlife photographers who live in British Columbia and travel the globe taking absolutely amazing photographs. They have traveled extensively in their Native Canada and were instrumental in the expansion of the Nahanni National Park. It was there they first met in 1984 on a 540-kilometer canoe trip.
Their work has been honored by the Explorers Club and the Royal Geographical society and appears in the Smithsonian, Time, Forbes, and other major magazines. Every year they host the Salt Spring Symposium at their home in BC with explorers from all over the world gather to share research, inspiration, and fellowship. They have been to both the arctic and Antarctic, Africa, the South Seas, and Asia. Together they have hiked and canoed more than 2,000 miles.
You can read more about them on their website: Pat and Rosemarie Keough
Their photography books such as The Niagara Escarpment: A Portfolio – can be had for as little as $0.09 (used and at the time of writing this) plus the cost of shipping.
A Leatherbound first edition of Antarctica: Explorer Series, Vol. 1 hailed as "the most exquisite photography book created in modern times" and "winner of 19 international awards for excellence and craftsmanship – more than any other modern book" will set you back $3,800 or more!
Samuel Baker and Florence Szasz
Last but not least we have Sam and Florance. Florance was born in Hungary and orphaned in war. She was adopted into an Armenian family but later captured and sold into slavery in Vidin. It was here that Sam Baker, a renown English huntsman, and adventurer was on a far-flung trip with Maharaja Duleep Singh. On seeing Florence in the slave auction Sam fell in love and bid for her, only to lose out to the Ottoman Pasha of Vidin. Undaunted he bribed her attendants and the two of them fled the city together.
Thereafter Lord Samuel and Lady Florance were inseparable and together they set out on many adventures. Perhaps their most famous was an attempt to trace the source of the River Nile on which they discovered Lake Victoria. While they did not trace the river to its source, they did determine that it was in Ethiopia rather than Egypt. In 1869 the pair, both avowed abolitionists, led a military expedition into the Nile basin to stop the slave trade in the region and establish a Brittish colonial presence there.
The couple's fame was only tempered by the widespread scandalous, and likely accurate claim that they had been traveling together for some time before actually being wed and had thus been living in sin. There was also speculation that the story of how the met had been embellished somewhat. Regardless, their adventures together and their courage were not in doubt.
You can read about this pair of star-crossed lovers of adventures in: To the Heart of the Nile: Lady Florence Baker and the Exploration of Central Africa