This gift giving guide is not quite like the others. I wanted to not only suggest a list of products but to really reflect on what types of gifts an RVer would appreciate as well as what your goal is in giving the gift. This way, even if you don't see a suggestion that you like, I hope I might spark a train of thought that will lead you to the perfect gift idea of your own. For the products I did recommend, I tried to do a lot of research to ensure they were of good quality and fairly priced. I know everything here is something I'd be delighted to recieve.
Consider what your motivation is
It's not often discussed, but your motivation for giving a gift should inform the ideal gift to give.
You want to acknowledge your relationship:  Sometimes you just want to show someone you care about them. It's a great way to build and maintain relationships. I think when this is your motivation, a card or letter is the best way to go. Tell the person you care about them in your own words. Nothing else will have as much meaning and create as much of a bond of friendship as saying what you feel.
I looked at a number of online Card companies and I felt Paperless Post was the one to recommend. They do both electronic cards and paper cards. You can have them send cards for you, or you can order cards to send yourself. They even do event invitations with online tracking of RSVPs. I think they have great designs and a nice easy to use website. You can send some e-cards for free and when you sign up they give you some free premium credits you can use.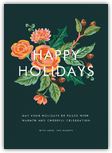 You want to help the person out: Often the most appreciated gifts are the ones that people genuinely need but can't afford for themselves. These are often not very exciting gifts, but if the need is great, they will be very well received. If this is your goal, then it helps to be practical. You want to find out what the person truly needs by speaking with them. When in doubt, you can be sure cash will be well received.
Sending Cash is pretty easy these days and a number of companies let you do it free of charge in the US. I'm a long time fan of Google and I think Google Wallet is a trustworthy service that I have used. You can send nearly anyone cash from your bank, debit, or credit card. Card payments will cost you but bank transfers are free. They will need to join the service and link their own bank account to get the money. Venmo is another popular service of this type, though I've not used it myself.
You feel obligated due to an event: This is a matter of etiquette. Certain events: holidays, birthdays, etc… call for gift giving. Perhaps someone sent you a gift, perhaps you signed up for a gift exchange, perhaps your family always exchanges gifts at a gathering. You might say this is the default motivation if none of the others strike you. Here it is generally about not offering offense and providing gifts that will be well received. It's where random lists of "great gifts" come most in handy.
Food is something everyone nearly everyone can enjoy, and it doesn't take up space in an RV for very long. Graze is a company specializing in unusual gourmet snacks and is good for folks who have particular dietary concerns. Their website lets you put in restrictions, desires, and requirements to find the perfect item. If you've something more traditional in mind, there is Harry & David which has been in the gift basket game for a long time and has lots of tasty options.

You enjoy gift giving and the reaction to it: It's fun to give gifts, especially when people are surprised and delighted by them. Here you are either looking for a happy surprise or a gift the recipient has long anticipated or desired. The more you know about the reviewer the better you can hit the mark.
This Waterproof Pouch is great for any RVer who likes all weather adventure or spending time on the beach. It lets you keep all your essential valuables with you in the water, even when snorkeling and scuba diving. You can even access and use your phone while it's in the pouch. At about $20 its a very nice small gift, likely to be well received.

You found something you want someone to have: Sometimes we really want to share an experience with someone else so we give them a gift we have enjoyed. Often this is a movie, album, or book, but it could be nearly anything. Of course, if this is your motivation you don't need any gift ideas from me.
Only you know what you want to share. For me, I want to share Nausicaa of the Valley of the Wind with you. It is one of my all-time favorite films thanks to its imaginative setting and its incredible heroine. Nausicaa is a character that truly inspires me with her courage and heart like few others.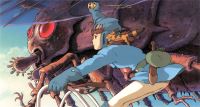 You want to curry favor: Giving gifts can be a powerful way to influence others. This is a motivation where the perceived value of the gift can be its most important consideration. Just keep in mind that while people often will favor those who are generous with them, they won't be happy if you make them feel obligated.
I'll go ahead and recommend something fairly expensive here. Most drivers have a nav system already but the Garmin nüvi 2789LMT is the current state of the art (as of 2016). I'm sure if you were to buy it for an RVer you know, they would feel some serious gratitude.
Consider the RV Lifestyle
Considering the title of this guide, I am presuming the person you are shopping for either lives in an RV full time or spends a good amount of time in one every year. This presents some fairly unique challenges as a gift giver.
Mailing gifts can be challenging: One tricky thing about RVers is they are often on the move and their address changes frequently. If you want to mail something it's best to make arrangements ahead of time. If you just fire something off in the mail, it might end up at a mailing service or in a park they left long ago. Digital gifts are therefore one of the easier options provided the RVer is internet savvy.
Lots of companies have electronic gift cards these days. They have the benefit of not requiring any mail to send, and the receiver can make shipping arrangements if they buy something tangible. Of course, I have to recommend Amazons eGift Cards. Not only can your recipient spend their card on a huge range of merchandise, it earns us a small commission as well so you give two gifts at once!

We also recommend making donations as gifts for people who already have what they need. The Red Cross has a nice program where you can give a very practical gift to people who very much need it in honor of a loved one who would appreciate the gesture of a donation in their name. Of course, you can donate on your own behalf as well. Red Cross a charity we often support ourselves.

Space is a limited: Most RVers don't have a lot of "extra" room in the RV. One rule Trail and I follow is that if we bring something new in, something old must go out. There is very little room for anything we don't need or regularly make use of. Hardly anything anyone ever gave us as a gift made the transition from House to RV. Even gifts of great sentimental value were mostly packed away and stored at my parents home instead of coming with us. Bottom line: gifts should either be small or something you know the person wants. One good strategy is the upgrade, identify something the RVer already owns and get them something better to replace it.
I always liked pocket knives but never found much use for them. Now that I live in an RV I use my multi-tool all the time and carry it with me nearly everywhere. This Leatherman Wingman has the two tools I use most often these days: Pliers and Scissors. It's also at a pretty nice small gift price point at $30.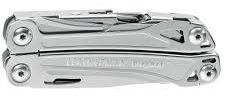 Another key item for trailer life is a decent headlamp. Whether you are taking a late night run to the showers, heading out for a night of star gazing, or just looking for something in the back of the closet, you want a decent headlamp. This Princeton Tech Remix is a nice lamp for its price and has a nice large button on top to activate it, something we've found to be a key feature.

Durability matters: The RV life involves a lot of moving around, exposure to the elements, and plenty of bumpy rides. Delicate decorations and the like are rarely a good idea. When considering competing products, research which ones have the best reputation for durability.
When I am out exploring I often think, "I wish people could see what I am seeing." Cameras are nice but you need to pull it out, aim it and the don't often capture the sense of scale and wonder. I discovered there are quite a few camera glasses products on the market. Many are marketed as "spy" glasses but some are for sports enthusiasts. Most of them look really cheaply made and their reviews back that up, but after much research, I think these IVue Camera Glasses could stand up to some serious adventure and let you take hands-free point of view video. Now folks can see what you see as you explore the wilds! It's also great for bloggers for making hands on video demonstrations.

Speaking of Durability, Trail has been dreaming of getting a Yeti Cooler for some time now. These folks make coolers that are guaranteed to resist a hungry grizzly bear's attempt to open it up. They are very expensive as coolers go, but they come with a lifetime guarantee. If you want to give an RVer a gift that will last nearly forever and will constantly come in handy, this is a good pick.

Materialism vs Experience: Not everyone who RVs is a minimalist, but many who RV value experience over material treasures. Consider gifts that can enhance and enable adventure and experience. Also, think about possible gifts of experiences like tickets for scenic plane rides or rafting trips.
Advice for booking adventures as a gift
Find out where your RV loved ones will be in the next few weeks
Google for cool adventures in the area that accept reservations and pick 3 different options
Talk to your intended recipients and ask them if they'd like to go on one of the said adventures, your treat
Work out what time frame would work for your beloved RVers
Call the company to make reservations, letting them know this is a gift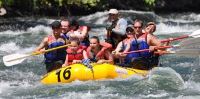 One item we find really enhances our experiences outdoors is a good pair of binoculars. Prices for binoculars cover a huge range. On the lower end, I think these Polaris Spectators are a nice pick. More expensive, but truly excellent are these Nikon Monarchs.

What about Airstreams?
Our blog is most popular with Airstream aficionados so I must take a stab at what an Airstream RVer would specifically enjoy. To my thinking, the thing that most distinguishes an Airstream owner is a sense of style. Some get them purely for quality and durability, but that's not much to go on for gift giving. Everyone likes those qualities. Airstreams appeal to art lovers of many stripes. Their design is at once both retro and modern, refusing to abandon aesthetics for pure utility. Most trailers are decorated to look nice while Airstreams are designed to look nice.
If you are looking for something unique for an Airstream owner, these Custom Airstream Door Guards are a great idea. They are beautiful and you can make custom orders tailored to your RV happy loved ones. I suggest you order well in advance as the creator often gets a bit backed up with orders, especially around the holidays.

Airstream owners get pretty nostalgic about the brand they love. So much so that many of them have written books about the history of the company and their wonderful trailers. Airstream: The History of the Land Yacht is filled with pictures and stories that bring to life the grand history of the brand.