Airstreams are unique trailers. Their aerodynamic aluminum bodies, large windows, and unusual construction mean caring for them requires the right tools. Let's take a look at both the common and uncommon tools you should have in your Airstream Toolkit.
You don't need everything to start out with. We started with a decent kit from our garage, but as time went on we had to acquire more tools. We are rarely anywhere so remote we can't drive to a hardware store when necessary. Nonetheless, it's nice to have what you need the moment you need it.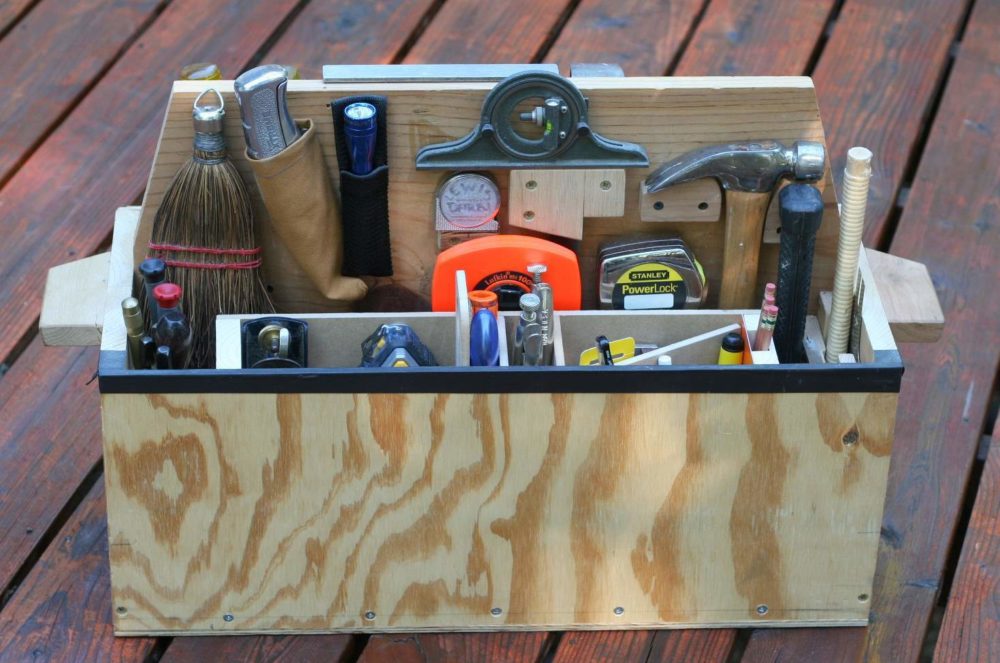 And Now for the Good Part
The following tool titles are links to tools we recommend based on our experience and research. We hope that you'll find this list helpful.
The Essential Tools
Bubble Level
You need one of these to help level the Airstream when you park. Often the one on the jack doesn't work so well due to its location. This type can be placed on any flat surface in the trailer to check your level.
Classic Tools
You need the basics, screwdrivers, hammer, wrench, ratchet, utility knife and so on. You typically don't need a vast selection, a standard toolkit should do the trick. Portable is good but you want sturdy tools and a case with extra room for other tools you use regularly. Philips head screws are the most common type in an Airstream so keep your Phillips screwdriver close at hand.
Duct Tape
The handy fix-all for any taping and sticking needs. And it turns out the classic silver color is perfect for discrete use on the airstream. We also pack neon orange duct tape for putting on tools so we don't lose them and marking which link of the chain to use in our weight adjusting hitch. Handy stuff.
Extension Cords
You want to have at least one heavy-duty outdoor 15amp extension cord. It will come in handy for staying with friends and family to charge your battery and for operating appliances outside the trailer. A flimsy or cheap one can lead to electrical trouble so don't skimp. Inside you rarely ever need an extension cord as there are outlets nearly everywhere. Generally, your Airstream will already include a 30amp and 50amp cable.
Glue
When duct tape fails, try super glue. We've had a few things break in our trailer that some glue was all we needed to set things right. The same goes for our truck. Patching loose trim or the like the moment it starts to go saves you a lot of trouble down the road.
Headlamp
Headlamps are far handier than normal flashlights when doing repairs or maintenance when the light is not so good.  It's not exactly essential but it sure is handy.
Hitch Grease
You need to keep your hitch greased to prevent wear and ensure it pivots nicely. The smaller and cleaner the grease gun the better. The one we recommend is cheap and comes with a rubber cap to keep things tidy.
Ladder
You may not need one right away, but eventually, you will need a ladder to clean and service your Airstream. The typical exterior height of a modern Airstream is roughly 9 to 10 feet. The one I recommend is a telescoping ladder that takes up very little space. For maximum utility, you might prefer a folding ladder that is bulkier but can be used as a scaffold or freestanding step ladder.
Leveling Blocks
The most common use for these is to level your trailer. You position them behind the wheels on the low side and drive up onto them. You can also use them under your stabilizers and for your front jack. Finally, if you have a dual or triple axle Airstream they are the best way to change a tire. Just drive the tire you aren't changing the blocks and the other will be off the ground for you. We own two packs of 10 to be on the safe side.
Measuring Tape
Chances are that you already have a measuring tape. It comes in especially handy in Airstream life when shopping. We learned that you really want to make sure the items you buy are going to fit nicely in the places you want to store them.
Safety Glasses and other safety gear
You want to keep your eyes safe while working. I like simple safety glasses better than full goggles. You may also want some ear protection (these are neat because they cancel loud noises but you can still hear and converse). A good pair of gloves that are tough but flexible. Finally, you may want a good apron to protect your clothes from damage and stains. Our apron has saved our clothes from some of the worst greases stains that would otherwise turn them to scrap!
Tire Changing Gear
Most cars come with gear to change the tires, Airstream trailers generally do not. You need something to lift the trailer, either leveling blocks if you are multi-axle or a jack if you are single-axle. Likely if you are a single axle the jack for your tow vehicle can be used for your trailer. You also need a tool to remove the lug nuts. Most Airstreams have 3/4″ nuts, but you should check to see what size you have. Chances are pretty good they are not the same size as those on your tow vehicle.
Tire Inflator
You want to check your tire air pressure regularly and you don't want to try and get your Airstream into a typical gas station to use their inflated. A portable electric inflator will get the job done quickly and easily. The one we recommend connects directly to a car or RV battery and has a long cable. They can also be used to inflate rafts, air beds, and balls.
303 Rubber Seal Protector & Conditioner
At first, we used a standard silicone dry spray to help with our sticky windows but soon discovered that the windows would still stick in really hot weather. Then a visitor on our site suggested 303 Rubber Seal Protectant and Conditioner for Weather Seals, and boy this stuff works wonders. The bottle even has a sponge tip for easy application on the rubber gaskets. Combine this with a cheap plastic pry opener and you'll have no problems opening your Airstream windows. We got our "opener" from a cellphone repair kit, from when my wife broke her Galaxy S9 screen.
Nice to Have
Dent Remover
Because airstreams are double-hulled a suction-based dent remover is the easiest choice. The best size depends on the dent. This one is 4.5″ so it's for fairly large dents like the one we discovered a repairman left on our roof one day. Since it is a very cheap tool, it's a good first try before you take it in for repairs.
Dremel Tool
Dremel tools are really handy to have. Primarily they are great for cutting or trimming things, but they are also handy for craftwork and drilling small holes. Great for removing broken or rusted locks, sanding parts to make them fit better, and many other tasks.
Flexible Inspection Scope
Airstreams have a lot of nooks and crannies that are hard to access and see. Sometimes important things get broken in these places or things get dropped in them. Being able to see in there without dismantling your furniture is a handy thing. Inspections scopes are great for this and for engine inspection and many other uses. The one we recommend here plugs into an android phone and only costs about $20. Stand-alone scopes like this one, run in the $100 range.
Impact Driver & Drill
Most of us know how handy a good wireless drill can be. We discovered that an Impact driver is pretty handy to have as well. Impact drivers are essentially high torque power wrench. It's good for changing tires and quickly raising and lowering your trailer's stabilizers. It can also operate your main jack if the internal motor fails. I consider the drill essential and the driver very handy.
Weather Sealant
It's great for sealing up leaks you may find until you can make more permanent repairs. It's also great for attaching things to the outside of your Airstream such as an antenna mount or the like. It sticks well, is proof against the weather, but can be safely removed if you don't need it anymore.
Shears
A good pair of shears is an incredible thing. We use ours to cut insulation, twine, chicken, fabric, you name it. Ideally, you want something durable and able to cut through pretty serious material.
Silicone Lubricant
Once each year, extend the jack as far as possible and clean the inner ram tube. Then coat tube with a light coat of silicone spray lubricant. We also use it on the awning slides especially when dirty. Sometimes on the stabilizer jacks after an especially dusty road trip.
Tongs
Remember those small hard to reach places that things can and will fall into? Tongs are your best bet for retrieving things from there. The ones we recommend have silicone ends for easy gripping and there is a long and short one. That way you can reach far, and/or get into the smaller spaces. Also if one of them falls into said spaces, you have the other to rescue it. Of course, you can also use them for cooking!
Work towel
You can lay on it, clean up messes, wipe your hands, cushion your knees, make a pillow, hold delicate objects, dry things, and so much more. This one is reportedly sturdy, large, and absorbent. Best of all it's black so it won't look too bad after all the harsh things you will do to it. Get this and you will know where your towel is.
Ziplock bags
We use Ziplock bags a lot, both in the kitchen and for tools and parts. Often you can only get the ones with labels by ordering commercial packs that have a lot of bags in them. The labels are super handy for marking parts for your projects or even when using them for food storage. If you happen to have cats, we find they are essential for cleaning the litter box without lingering odors.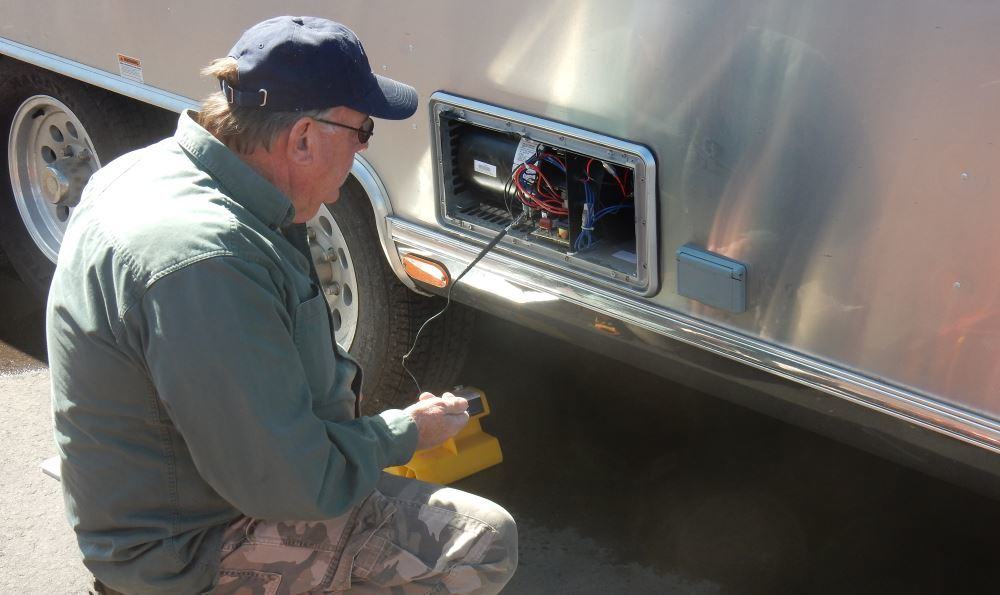 Advanced tools
Multimeter
I am not experienced as an electrician but a multimeter is something you will need if you want to troubleshoot electrical problems or do electrical repair safely.
Extra Rivets & Rivet Tool
You may need to replace rivets in your airstream or you may want to do some patching or modifications. For this kind of bodywork, you need a set of tools to remove and place rivets. You can also buy a rivet kit.