Our stay at Wilderness Lakes RV Resort was short but pleasant. It was a remarkable park for its lovely grounds and wildlife, but it does have a few serious flaws that may rule it out for some travelers.
Nights: 2
RV Park Cost: $33 ($16/night)
Discounts Used: Passport America
Address: 22552 Park Road 25  Mathis, TX 78368
GPS: 28.058172, -97.870850
Website: www.wildernesslakesrv.com
Pros
Good Price

Wonderful park setting
Great wildlife in park
Cons
Roadways in poor condition
No Wifi outside of clubhouse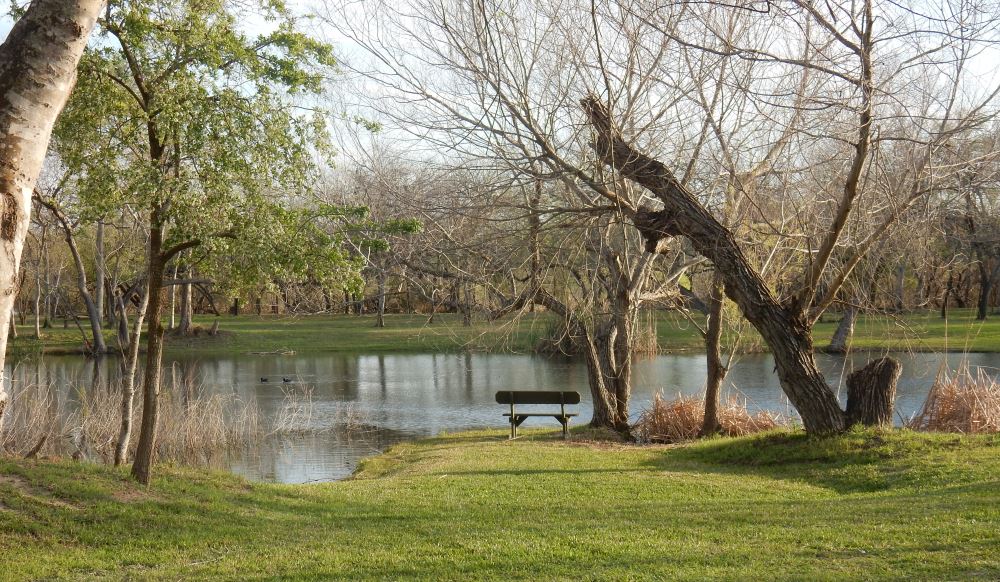 The Details
Wilderness Lakes lives up to its name. It is located next to a state park and there are a number of lovely lakes on or adjacent to the property surrounded by trees and lawns. It is a very large park but you don't get a sense of how large until you are inside it because the natural surroundings mostly hide it from view. The wetlands, woods, and relative seclusion make it a great habitat for birds. Bird song filled the park in the mornings and evenings as cardinals and sparrows celebrated the arrival and passing of the sun. Egrets and other wetlands birds were easy to spot on the lakes which are well enough stocked that fishing is allowed for park guests. We were even delighted to discover a colony of leaf cutter ants near one of the lakes. It is a delightful setting.
It is an eclectic park and it seems that many of the residents live full time in the park. Some lots are large and feature permanent buildings in addition to the trailer. One person had built a mock gas station on their lot and others had gardens. Old trees provide ample shade through much of the park and the whole place feels a bit like some lost village in the woods. The cost for a year's stay is really cheap, around $3000 so it's easy to see why some folks have decided to make it home.
The amenities are a mixed bag. There was a brand new pool near the new clubhouse and office. It was in good repair and well kept. There were not other readily accessible bathrooms or showers that I could find and the clubhouse was not open late at night. If you are relying on park Wifi you will be disappointed. The only coverage they have is at the clubhouse itself. On site, you will have to rely on cellular options. Fortunately, coverage for Verison seemed fine so we were not inconvenienced by it.
The biggest issue at the park is its uneven ground. Our spot was very near the entrance and clubhouse so we didn't have too much of a problem; just a few small potholes in the drive to the park. But as we walked around we found absolutely huge dips and bumps in some of the main access roads deeper into the park. Our rig would easily bottom out on these if we had had to traverse them. Many of the sites did not appear very level and trailers around us had to jerry rig supports to level themselves out.
With our Passport America 50% discount, our stay was a bargain. Non-discount pricing was reasonable though had I paid full price and had to deal with the bad roads in the park, I'd have been disappointed. For us, it was a real bargain and I would have enjoyed staying longer to watch the birds and hang out by the lakes.