We get a lot of compliments on our Airstream as we travel around the country. They are striking trailers and they have a very good reputation. Yet, you don't see nearly as many of them as you do other brands of trailers and motorhomes. One reason why is that they don't come cheap. A brand new 2020 Airstream will cost you somewhere between $35K to $150K. It is no wonder we are often asked: "Why are Airstreams so expensive?"
The Body Beautiful
The principle reason Airstreams are expensive is the Aluminium body they are so famous for. The shell of an airstream is made from a high quality "aircraft grade" aluminum alloy riveted over a steel frame. This is insulated and then an inner shell of aluminum is riveted on from the inside. Not only is the material more expensive than what other brands use, but it also takes a lot more labor to assemble. Every rivet is put in by hand to ensure a perfect seal and to avoid damage to the frame. This build process also means they can't drop appliances in from above but must carry them inside the trailer to install them by hand. Again, this means more labor and higher construction costs.
So much of what makes an Airstream a great trailer has to do with its body design. The all-metal construction means it is incredibly durable. It is a very similar design to WWII era aircraft which were near legendary for their toughness. Airstreams don't rot like other trailers. The only plywood used in their body construction is the sub-floor which is needed to provide an anchor point for the appliances and flooring. It is completely contained within the double frame so it cannot easily rot like the plywood walls and floors of many other trailer brands.
You can watch the process of Airstream construction here: How it's made – Airstream.
The aluminum also allows the streamlined shape of the trailer as well as making it lighter weight than it's counterparts. That makes them easier to tow. Of course, the signature silver bullet finish of an airstream is also due to its construction materials. Because they are not painted, their good looks are easy to maintain and hold up well under all kinds of weather.
Most trailers have a limited expected lifespan. It is very rare to see 30 and 40-year-old trailers for any other brand, but you can find numerous Airstreams of that age on the road. If kept up, they look as pretty as the day they were made. It is one of the few trailers that become family heirlooms, outliving their original owners. As a result, Airstream trailers hold their value better and longer than any other brand.
Why don't other brands use aluminum bodies? Primarily because it is very expensive and most brands compete on features and price rather than longevity.
A Legendary Brand
Airstream is something of a luxury brand. They are made to appeal to middle and upper-class customers and that is also how they are marketed these days. Like any luxury brand, they come with something of a luxury price. Airstream will probably not produce a stripped down bargain version of their trailers as it would hurt the image of the brand as the best you can buy.
Explore the history of the Airstream with this great book – Airstream: America's World Traveler 
There is also a lot of loyalty and love for Airstreams among its fans which keeps demand high, and that helps keep their resale value high. There is some real benefit as an owner from this fandom. Airstream is almost as much of a community as a brand and its roots go back to the companies founder, Wally Byam, who organized international caravans for its members. He had a vision; to allow people to travel the world and have grand adventures, not just to make money selling trailers. Airstream owners love their trailers and form tight-knit communities and clubs that still rally for adventure and help one another.
Airstream is also a distinctly American brand. They are not the only trailers made in the US but they are very proud of manufacturing their trailers in in America using American labor. They have been built in their Ohio factory since 1952.
Other Fine Qualities
Body and Brand are the two big drivers of the price, but Airstream quality is more than skin deep. Airstream does all its own cabinetry and furniture is made from high-quality materials made to fit the trailer's unique shape. They also use quality third-party components like Moen faucets. These factors are not unique to Airstream trailers and other brands have luxury models with similar quality interior fittings. With Airstream, pretty much every model is a luxury model to some degree and you won't find any with outright cheap components.
Airstreams also have great tempered glass windows and lots of them. Cheaper trailers often have little portholes or small square windows that only open a little way. Airstreams have lots of big windows that open to get you as close to nature as possible without stepping outside the trailer. The brakes, axles, and wheels are also of very high quality compared to cheaper brands.
The styling of Airstreams is also a factor. They tend to a modern aesthetic rather than the common country-home style a lot of trailer companies go for. While this doesn't always translate to a higher price, the clean lines and curved surfaces do tend to be more expensive to manufacture. Airstream spends a little extra time and money in making sure Airstreams are as pretty as they are functional to maintain their famous brand image and satisfy their demanding customers.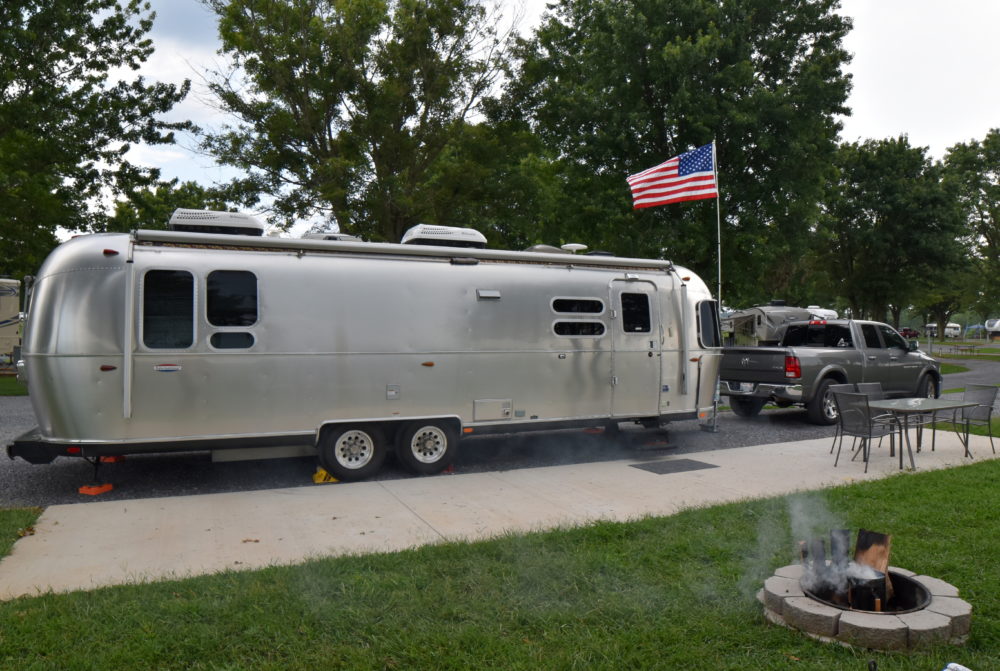 Sweet Silver Dreams Are Made of These
Those are your three core reasons why Airstreams are so expensive: Aluminium Body, Legendary Brand, and Quality Components. They are built to last a lifetime and hold up to grand adventure on the open road. All while remaining one of the most stylish and elegant RVs ever made. In a world with so many throwaway products and designed obsolescence, Airstreams are a call back to an earlier era of enduring quality and long-term thinking.
Ready to live riveted – Airstream style? This great book: How to Buy an Airstream can get you started.
OK, that sounds a lot like a sales pitch, but it's indicative of how Airstream owners, like myself, feel about their trailers. They are very nice and their price really is a reflection of the materials and labor that go into making them with a bit of cache from the history of the brand thrown in. I've known many who decide not to go with Airstream, but I've never met anyone who owns one and regrets the purchase.