Trailers are more exposed to the elements than a traditional home. When it rains, you hear every drop. When it blows, you feel every gust. Those parts are actually pretty fun, but the heat and the cold are not so great. One tool you can use to try and regulate temperature in your mobile home are radiant barriers, also known as reflective insulation. This article will explain what they are, how they work, how you can use them, and of course where you can buy them.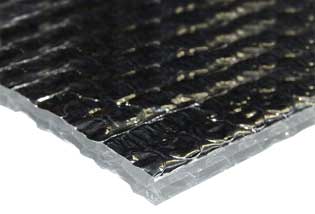 What is it?
A radiant barrier is a material that reflects radiant energy. An example of radiant energy is light from the sun or the heat given off by an electric coil. The radiant energy hits the surface and bounces off rather than passing through or being absorbed. Many, though not all radiant barriers are reflective, that is they look shiny because they reflect light (which is also a form of radiant energy).
The type of radiant barrier that is most handy in a trailer consists of bubble wrap with a reflective foil glued to both sides. You buy it in rolls and can easily cut it to whatever size and shape you need. It is light weight, fairly thin (about an eight of an inch), and has a stiffness/flexibility about that of card stock though it tends to be more rigid vertically than it is horizontally.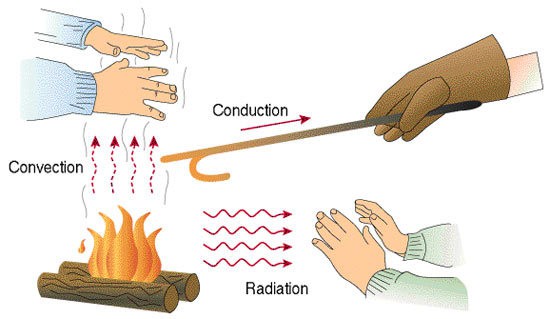 How it works
Keep in mind its mission is to reflect radiant heat. Since it is shiny on both sides it does that equally well from either side. One thing that is tricky about radiant barriers is in what situations they don't work so well. For starters, they are not effective when in direct contact with a hot object. For instance it doesn't make a good oven mitt. This type of heat transmission is called conduction and foil actually conducts direct heat pretty well. You need air or void space between it and the source of radiant heat for it to reflect it.
It also doesn't work well to stop convection which is when heat in a medium like air or water moves taking heat with it. Unless your barrier is air-tight, hot air will flow past the radiant barrier as it moves upwards. This means if you put this stuff in your attic and its cold outside, the hot air in your house will flow past it and it won't do much to keep the house warm. On the other hand if it is on the floor and you have a warm house it will keep heat from radiation out the bottom of the house since the hot air is going up and only radiant energy is going down. Bottom line, it keeps heat from going down, but isn't so great at keeping it from going up unless you can trap the air beneath it.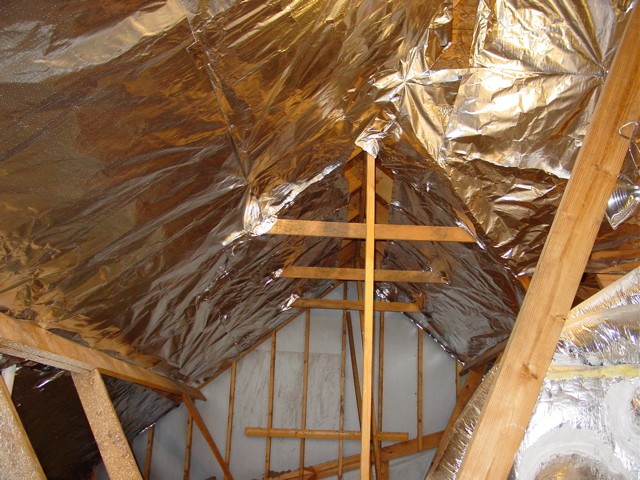 How to use it
For trailer life you can use this stuff both to keep heat in your trailer and to keep heat out of your trailer. For keeping cool its primary use is to cover your windows and skylights with the reflective material. This reflects the rays of the sun coming in the windows thus keeping them from heating up the interior.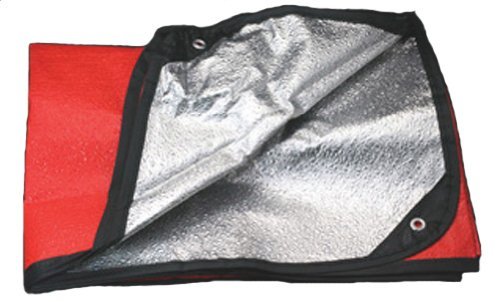 You can also use it to retain body heat when you sleep by putting it under your mattress where it will help keep the heat you generate in your bed. You could also make a sort of blanket from it to go over your normal ones though I suspect that would be a little unwieldy and they make specialized blankets for this you can buy. We also have lined the space our cat's sleep in with the stuff to reflect their body heat back into their cubbyhole. Again, air space matters here, though a mattress or heavy blanket tends to provide sufficient trapped air so it can just sit directly under it and do its job.
Finally you can use it to section off parts of your RV to concentrate the effect of a heat source in that area. This is especially handy if you want to keep the sleeping area warm for the night but use less power. If you have to cover a large area you may need something to support the barrier like a large piece of cardboard to stiffen it up. Double sided tape is good for making a large stiff board of it, though the side attached to the cardboard should face away from the heat source as it looses its effectiveness at reflecting heat.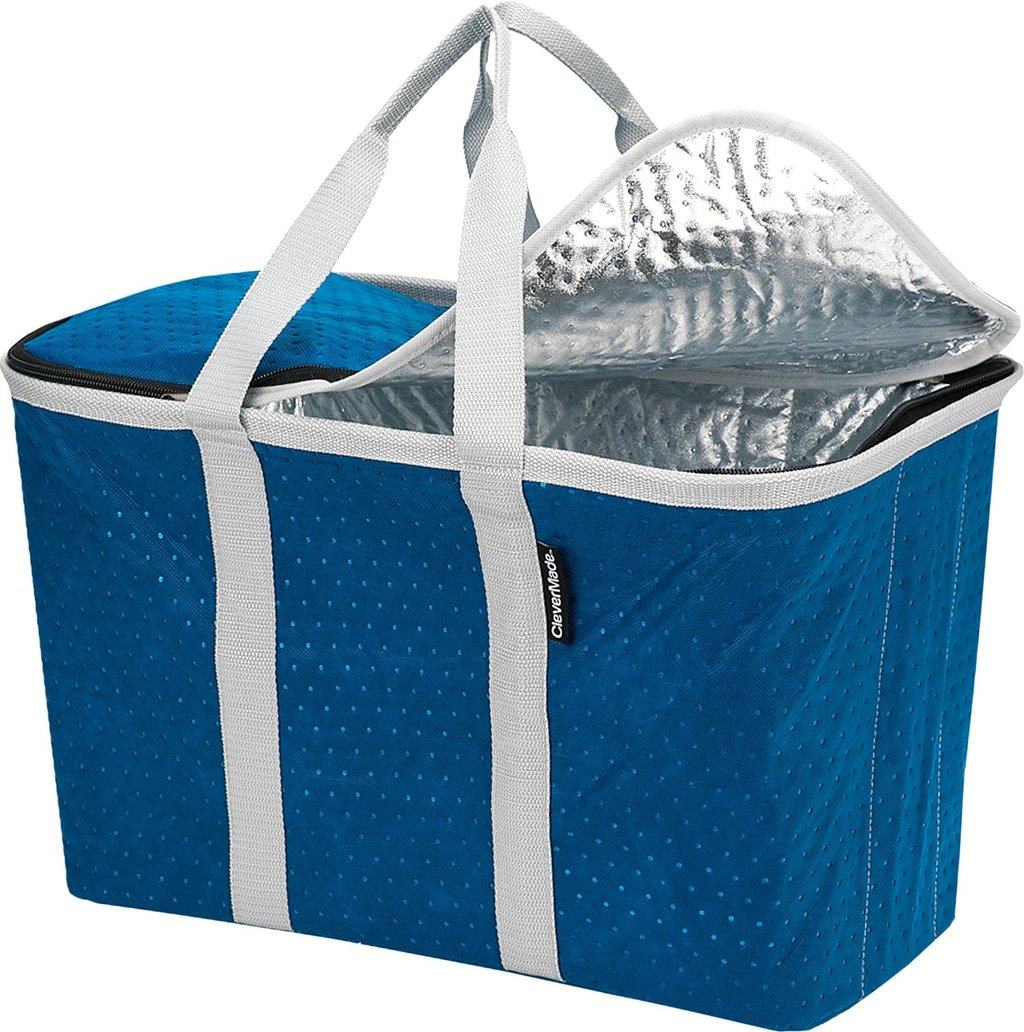 Beyond controlling the temperature of your trailer, you can also use the stuff to make an insulated bag to keep food and drinks warmer longer. Again they do sell these specifically but once you buy a roll of reflective bubble wrap you just start to imagine all the handy things you can do with it.
One thing you probably don't want to do is try to make clothing out of the stuff simply because it would look silly and not be too comfortable. Of course you can buy clothing made with radiant reflective material incorporated into it and it does work very nicely at keeping your body heat inside your clothing on chilly days and nights. Columbia sportswear has a lot of items using this technology under the title Omni-Heat.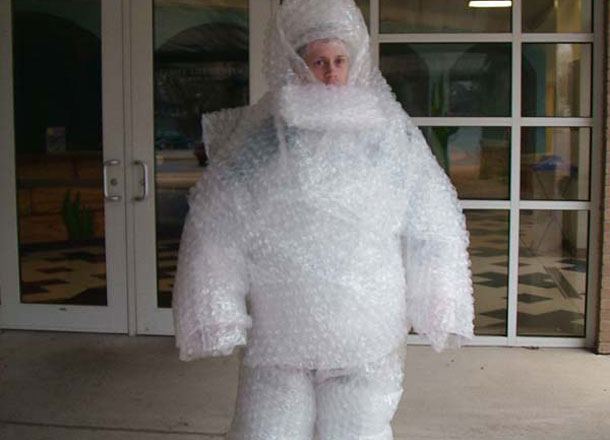 Buying the stuff
The basic bubble wrap reflective insulation can be gotten pretty cheaply. Often I find the list price is quite high, but it can be had deeply discounted nearly everywhere it is sold. If you are paying anything more than $50 for a big roll of the stuff you are probably paying too much. Because it is most often sold for use as home insulation, it tends to come in pretty large quantities.
Big roll of insulation (Only buy if on sale, otherwise look for another)
Smaller roll of insulation (Only buy if on sale, otherwise look for another)
Reflective tape to make your own insulation  (I haven't used this stuff)
Double sided tape for sticking insulation to things