For a person who's livelihood was rooted in computers, I knew very little about electricity. Early in our RV adventure, we did some mooch-docking with friends, plugging in our RV to an outlet in their garage. We learned the hard way that an RV is not just some appliance you plug into the wall. A few blown circuits later it was clear I needed to learn more about electricity. When I dive into a subject I like to get the whys and wherefores. In this article,I will give you some electricity basics, talk about RV electrical systems, and then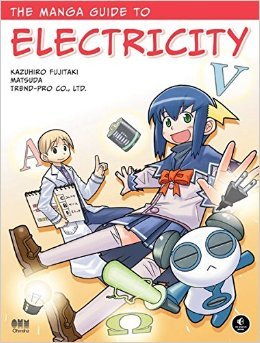 In addition to the google oracle and Wikipedia sages I picked up this book: The Manga Guide to Electricity, at the famous Powell's bookstore while we traveled through Oregon. Manga is what they call comics in Japan and is used in the US to refer to the Japanese style of comics. So it is an electricity textbook in the form of cute comics about a girl from another universe learning the basics of electricity. It's cute, fun to read, and explains the principles of electricity in a visual form that makes it especially easy to understand and remember. Great for students of all ages!
Electricity Basics
Electricity always travels in a circuit, basically a circle. Any device you plug into an outlet becomes part of that circuit. It is possible to attach one circuit to another (think of a figure 8). Electrons are subatomic particles that move withing the circuit and when they do, electrical energy is created moving opposite the direction of the electrons. If they can't move, no electricity, so you have to have a loop for them to run around in, somewhere for them to go. Circuits are made of materials that electrons move in easily, these are called conductive materials. Materials that are hard for electrons to move in are called insulating materials. Most electrical circuits are made of copper wires, a great material for electrons to run free in and covered with plastic or rubber which is an insulator, it keeps the electrons in the wire.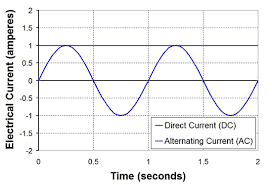 Electricity comes in two flavors: AC (Alternating Current) and DC (Direct Current). The difference is pretty simple. In AC power, the direction of the electricity changes rapidly back and forth in the circuit. In direct current the electricity is always flowing in the same direction. Batteries always generate DC electricity. City power is almost always AC. When electric power was first invented a war of technology was fought between the two with AC winning out as it was better at moving electricity long distances through wires. DC is however often more efficient to use and is to some degree less dangerous to humans at low voltages.
Finally, It's important to know the 3 basic measures of electricity: Watts (W), Volts (V), Amps (A). Voltage is a measure of pressure, how strong the force is that moves the current. Amps are a measure of total current, how much electricity passes through the wire in a given time. Watts measure the consumption of electrical current by a circuit in a given period of time. Nearly any electronic device will list each value on a label or in an included manual. For a rough analogy, imagine sipping from a garden hose: Volts is how hard it splashes in your face, Amps is how much water is flowing out the end, and Watts is how much water you are drinking.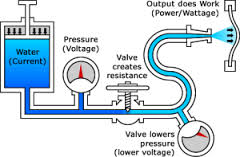 There is a simple formula that is useful to remember: Amps = Watts / Volts. Which if you know your algebra, you know also means Watts = Volts * Amps. Voltage is almost always listed but often only one of Amps or Watts will be shown for an appliance. Of course, the listed values are not always 100% exact or accurate. Many appliances vary in exactly how much power they draw. An electric rice maker likely draws more power when it is cooking rice than when it is keeping it warm. Generally, the listings for a device will be on the upper end of both how much power it draws, and how much it generates or can store.
Your RV Electrical System
Most RVs will have two electrical systems, one is a 12 volt DC system that runs directly off the RVs battery. The other is a 120 volt AC system that runs from an external power source. Everything in your RV that can run off the 12-volt system will do so. Generally, that means everything except the microwave and air conditioning, though it's possible there are others as well. Those appliances simply need the power of 120 volts to run. In most cases, all the outlets in your trailer are also on the 120-volt system since most appliances assume you have city power.
When you are plugged into a 120-volt power source, a device called a converter will supply power from that system to the 12-volt system as well as changing it to DC current. In some RVs, usually the larger ones, there is also an inverter which can take power from the DC system and deliver it as 120 volt AC power. Typically the inverter AC circuit is not the same as the external power circuit so you would have some 120 volt systems marked as inverter outlets while others are the normal 120-volt outlets. The benefit of inverter systems is you can run your TV or laptop from the 12-volt battery rather than only when receiving external power.
A typical RV, much like a home, will have multiple circuits within the RV. They are all interconnected but between each is a circuit breaker. This is a device that ensures that problems happening in one circuit, don't affect the others. If one circuit goes crazy for some reason, it will disconnect it from the overall system denying that circuit any further electricity. Somewhere you will have a panel that contains circuit breakers. Typically when they break, you can flip a switch to re-connect them. Most external power sources will also have a circuit breaker. If your RV tries to draw too much power those circuits will likewise break and need to be reset.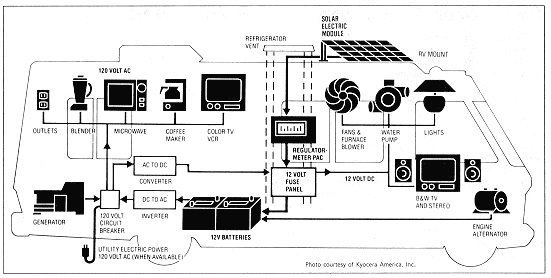 Connected to City Power
When you are connected to city power through an electrical hook up you can use the 120-volt outlets in your RV as well as all the systems connected to the battery. In addition, the city power source will charge up your battery for you. Depending on the strength of the connection, you may have limitations on what you can run. See "Why Amperage Matters" for more details.
Connected to a Generator
When you hook a generator to your RV you end up with something like a city power connection bit with more limitations. You can use your appliances but unless you have a very mighty generator there will likely be more restrictions. Some motorhomes have internal generators that run from the main fuel tank while other RVs must use a portable generator. Unlike city power, it can also run out of gas. See "Why Wattage Matters" for more details. Also, generators make noise that often can annoy neighbors, especially if they are trying to enjoy the tranquility of nature.
Running off your Battery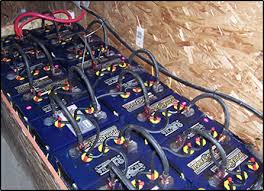 When you run off the battery you cannot use the 120-volt outlets and likely can't run your microwave or AC as they draw too much power for normal batteries to handle. If you do run a lot of appliances or run devices off an inverter attached to the battery system, you will drain standard batteries pretty quickly. There are many ways to charge your batteries. In motorhomes, they will charge from the main engine while you drive, and with trailers, the brake/light connector will generally charge the battery in the same way. Solar panels and other renewables can also be used to charge up the battery.
Solar Panels (and wind energy etc…)
A common misconception is that solar panels work like external power and you can run a computer off of them or the like. How they are actually used in most cases is they charge the RV battery and then you run devices off said battery. The small panels on most RVs are not enough to keep all the appliances going all the time. Instead, they trickle in power over time and you drain it off in bursts as you need it. Same goes for wind energy or anything else you have charging the battery.
Why Voltage Matters
Voltage is the force of the current flowing through a circuit. Appliances that are intense energy users will need a lot of voltage to operate. A toaster, for instance, has to heat up metal coils by ramming electricity through them. High voltage makes quick work of a job like that. If you attach a low voltage appliance to a high voltage line, it will fry as it can't handle the force. If you attach a high voltage appliance to a low voltage line it will likely just fail to work though it might blow a fuse as it may try to pull more amps to make up for the low voltage. Neither option is a good idea. Always use a device with the same voltage as your power source or very close to it.
Why Amperage Matters
Amperage is how much current is flowing through a device or line. If you have more current than the wiring in your circuit can handle, bad things like melting wires and exploding electronics can take place. When you put appliances on a circuit, they draw power in amperage. The source of your power will try to keep supplying that. Ask for too much, and you overload the circuit's capacity. Devices such as circuit breakers exist to break a circuit if too much current is drawn to prevent an overload.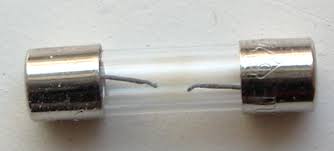 Thus, the key to amperage is not to put draw more current than your system can handle. Inside your trailer, each circuit that has a circuit breaker has a maximum amperage. Try to draw more power and your circuit will break. The same is true of an external power source you attach your trailer. Most RV park hookups are either 30 amps or 50 amps. When you plug into someone's house, you are typically getting a 15 or 20 amp circuit. If the total power draw in your trailer exceeds the amperage of the hookup, you will blow the circuit's fuse.
Even with a circuit breakers protection, constantly overloading an electrical system can lead to a lot of damage so you want to avoid it. Normally all the 12 volt systems in your RV are not going to collectively pull more power than your circuit can handle so you don't need to worry about those much. It's when you have your 12o volt appliances running that things can get tricky.
Typically the amperage draw of all the appliances built into your trailer will be below the hookup amperage your trailer is designed to use. Our airstream can handle a 50 amp hook up and even with all our built in appliances running, we won't pull more than 50 amps. We discovered the hard way that when plugged into a home 15 amp circuit, just turning our microwave on was enough to blow the circuit. Checking the manual we found it draws 15 amps all on its own and the trailer lights are enough to tip us over the edge. Generally, the AC system in most trailers are the biggest power draw and the lights are among the lowest.
When you are plugged into a system that delivers less than your RVs maximum amperage or anytime you want to run a lot of electrical appliances in your RV, you should be aware of how many amps each of your devices consume and avoid powering up more of them than the circuit can handle. Pay special attention to devices that create a lot of heat or cold in a short period of time, these are often the serious amp hogs.
Why Wattage Matters
Most electrical devices take the electrical current and transform it into some other kind of energy. Heat is one of the most common along with physical motion and light. Thus, your appliance is consuming energy and Wats is what that consumption is measured in.
When you are on a city grid or other source of electricity that is essentially inexhaustible with respect to your appliances, wattage is used to determine how much the electric utility is going to charge you for your consumption of the service. Most RV parks don't charge by the Watt and simply factor in average utility costs into the rental rates, though there are exceptions. Watts on a device are per second, as where most electrical rates are in kiliwatts per hour. Multiply your appliances wattage by 3.6 and you get its kilowatt consumption per hour of use. Multiply that by the rate your utility charges and you get the hourly cost of using that appliance.
When you are connected to a limited source of energy like a battery or generator, wattage is a good indicator of how long it will last or if it will supply sufficient power. A generator can support appliances with a wattage consumption about equal to the wattage specified on the generator. We have a 3000-watt generator so we can run appliances somewhere under that number. Batteries can be a bit trickier but the principle is similar. They are often listed with an Amp/hours or Watt/hours value
Batteries can be a bit trickier but the principle is similar. They are often listed with an Amp/hours (ah) or Watt/hours (wh) value. In theory, it's the number of Watts or Amps that the battery could provide for 1 hour. What is tricky about that is that the battery will have a limit in how many amps it can provide called a "C value" which is proportional to the Amps/hour value. So a 1ah battery with a .5 C will provide up to half an amp and will do so for about two hours. Trailer and car batteries tend to have high C values meaning you can drain the power they do have very quickly if you want to but they can provide a pretty hefty supply of wattage until they drain.
Why AC/DC matters
Because they are one of the most hard-rocking bands in the annals of music history. OK, really it's because most devices must run one one or the other types of power. For the most part, appliances you plug in are taking AC power and internally converting it to DC power. If they run on batteries they are using DC power from that source. AC is so common because it's easy to transmit and produce in that form.