Pokemon Go is sweeping the nation, perhaps the world and Trail and I are among the very many playing this game. If you are curious what it is or why it is a great game for RV Travelers, sit back and give this article a read.
What is Pokemon?
Pokemon started as a handheld computer game back in 1996 and became an international sensation. The games are about a young boy/girl who collects creatures called Pokemon. They can be as mundane as caterpillars or as exotic as dragons. Some are super cute, others fierce. The protagonist trains and raises the Pokemon and uses them to battle other rival trainers, some friendly, some villainous. Generally, there is a plot where evil trainers are trying to use Pokemon for selfish ends.
The Pokemon game quickly spawned printed comics, animated films, and a host of other merchandise. Pokemon started as a Japanese game but quickly came to the US and gained incredible popularity. Not only did it resonate with kids, but young adults and hobby gamers also embraced the games and its characters.
What is Pokemon Go?
Pokemon Go is a cell phone/mobile device game. Unlike other games it has no over-arching story and is set in the real world with you as the hero. As you walk around the real world the phone will help you find and capture Pokemon hiding all around you, only visible with your phone. You can then use the Pokemon you collect and train to battle for control of local "gyms." You can play simply to collect all the cute monsters available or for team competition.
Pokemon Go was created by Nintendo, who owns the license, and Niantic, who did the game development. Niantic was a Google subsidiary who first created a similar game called Ingress. Ingress, like Pokemon Go, encourages its players to get out, explore, and walk in the real world. In both games, real world works of art serve as places players can go to get resources that help them play the game. In Pokemon, these are called "Pokestops" and give players Pokeballs needed to collect Pokemon and other goodies. The more you walk and explore, the more Pokemon you can collect.
Why play Pokemon Go?
It's Free: Like Ingress, it costs nothing to play Pokemon Go. There are ways to spend money in the game, but these largely just make it easier and faster to achieve your goals. You can do everything the game has to offer without paying a dime. Mind you it does use up data on your phone, and it can drain your battery pretty quickly so there are indirect costs to play.
It's Fun: The Pokemon themselves are incredibly cute and the act of collecting them strangely compelling. It's easy to learn how to play, but Pokemon games have some depth when you get serious about trying to collect them all. You can evolve them into new, more powerful versions and even breed them together to give their offspring special abilities. The world of Pokemon is great for the casual player as well as the hardcore fan. The fact you can see the Pokemon moving around in the real world adds a lot of novelty to the game. Facebook is currently inundated with pictures of Pokemon in unusual places.
It's Good For You: Pokemon Go is designed to get you walking around. First, you have to explore to find the Pokemon and the Pokestops where you can get your Pokemon hunting equipment. You also need to log miles in order to hatch Pokemon Eggs. The more you walk, the more eggs you can hatch. The game will also award you medals for the distance you have traveled and the number of different locations you have visited. Having fun while staying fit is the whole idea of the game.
Why it's great for RV life
Unlike folks who spend most of their time in a few locations, full-time RV travelers get around more than most. That means you get to find a wider variety of Pokemon and spend more time in the sorts of places they like to hang out, near point's of interest, both natural and man-made.
Another nice feature of the game is as you play it shows you a map of your surroundings. Often it will show trails and geographical features such as rivers and roads. This can make it handy for navigating or scouting where a trail is going to go. I used it while fishing to figure out exactly where a nearby bridge was located.
Finally, it just adds some fun to hiking. When not taking in a grand view or examining the plants and animals, you can chase down some Pokemon. It's even a fun way to meet other gamers on your travels. The game is designed so players in the same area can help one another out.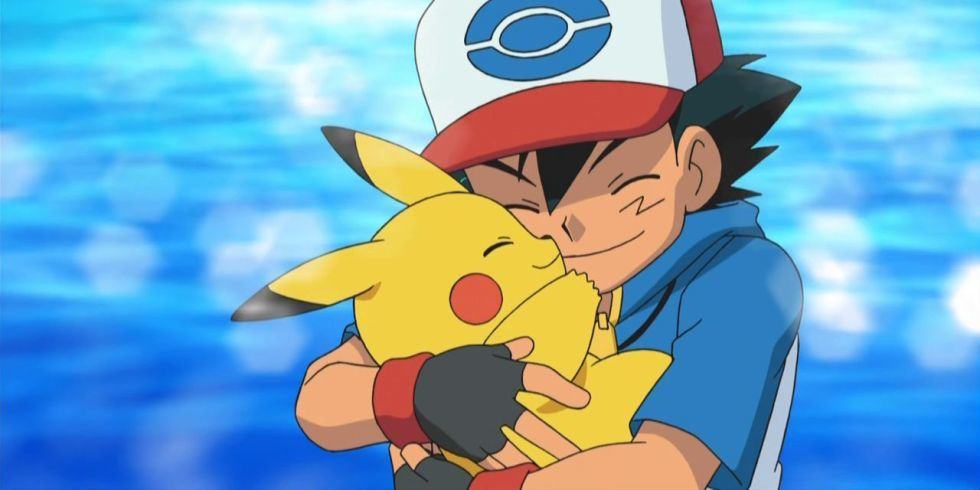 Use some caution
When you load it up, the first thing the game tells you is to be aware of your surroundings. Hunting Pokemon can be very engrossing as you wander around so you need to be mindful of where you are walking! Remember that you can use the sound or vibration in the game so it alerts you to nearby Pokemon and Pokestops. There is no need to stare at the screen everywhere you go.
Also, just because there are Pokemon somewhere, doesn't mean you are allowed to go get them. Playing the game is no excuse for trespassing or jaywalking. Generally, most Pokemon and Pokestops are concentrated in public places so this isn't a problem. That said, they can be found nearly anywhere so use common sense while playing.