At last, we have encountered a KOA park we really liked. Orange Blossom KOA boasts they are the friendliest RV park in Orlando and if our experience is any indication, they may well be right.
Nights: 4
RV Park Cost: $198 ($50/night)
Discounts Used: KOA Value Card
Address: 3800 W Orange Blossom Trail  Apopka, FL 32712
GPS: 28.699015, -81.573893
Website: www.orangeblossomkoa.com
Pros
Super friendly owners

Well maintained
Good, reliable wireless
Cable included
Cons
Expensive

Regular lots are a bit crowded

No clubhouse
Train noise
The Details
Normally when we arrive at a park, one of the questions the front desk asks is if we have pets. We always declare the two cats, something that goes unremarked since there are never any specific accommodations or rules for them. At Orange Blossom KOA we got a surprise. The receptionist handed us a special welcome package for our kitties including special treats and this note.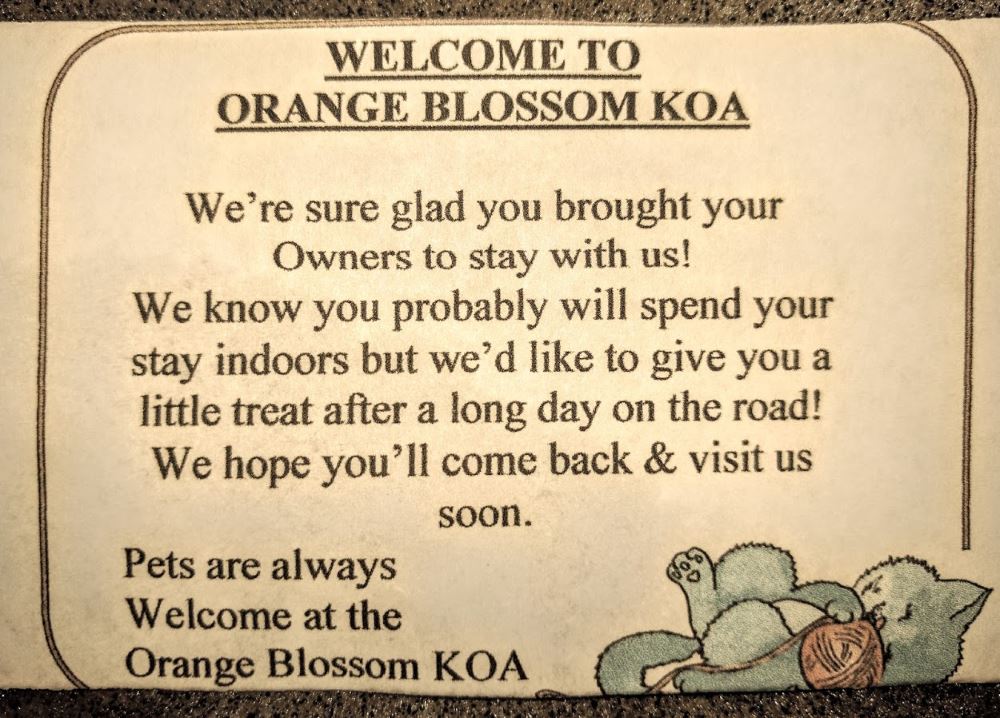 Needless to say, we were delighted and charmed by the gesture, taking an instant liking to the park. This was not, however, the last of its charms. The park is small but lovely with very large trees both in and around the park. Sunny Florida weather doubled down on the environment making for a very restful setting. Another boon was the strong and consistent wireless internet. We seem to have finally returned to a part of the country with internet backbone strong enough to handle a park full of campers. Of course, this being a small park also helps considerably.
The amenities are not outstanding but they get the job done. There is a central green space with a pool, laundry, showers and bathrooms. All of them are on the small side but in keeping with the scale of the park. Everything was clean and in good repair, though not especially modern. The hook-ups were in good shape and cable TV is included in the basic price. One thing they don't have is a clubhouse, but there is a lot of seating by the pool and a nice fire pit area with benches. The lots are good and level, composed of a crushed clay like gravel. The rank and file spots are a bit crowded but they offer deluxe spots with lots of room for a bit more.
This brings me to the one thing we didn't like so much which is the price. As we get deeper into Florida this will just keep going up. There is no way around the fact that the further you go into south Florida, the higher the RV prices will go. At least at Orange Blossom KOA they are trying to give you some value for your money with good service and a nicely maintained park. We finally bought a KOA membership card here as the discount meant we only paid an extra $10 for it. That should make it pay for itself at our next KOA stay and then start saving us money.
Considering the lack of lower priced alternatives, I'll give Orange Blossom a thumbs up. Bargain hunting for RV spaces just isn't feasible in this part of Florida so you should focus on quality and convenience in booking your stays.