Prior to our travels Trail and I didn't frequent a lot of fast food joints. Seattle is rich in great restaurants and a healthy income made rich fair affordable. On the road, we try to eat home cooked meals most of the time but occasionally circumstance leads us to want a quick bite and our budget demands cheaper eats.
I'd heart tales of many burger joints common in California I'd not encountered or frequented while in the pacific north west. I decided it would be fun to try and patronize places we've not been while traveling about. Having now hit most of the regional chains and a few national ones I thought I'd share my thoughts on them.
Tastes vary, especially with burgers. I tend to favor burgers with a strong savory flavor, heavy on the meat and light on other elements like veggies and condiments. Thus my favorite places may not line up well if you like your burgers on the thin side with lots of fresh veggies. With that said, on with the mini burger reviews.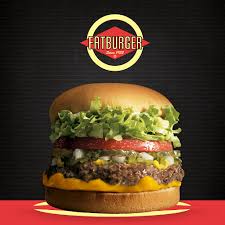 Fat Burger (my favorite so far)
Fat Burger sounded like my kind of place and I was right. They don't have all that many restaurants but they are pretty widely spread among major cities. They use the "build your burger" model where you pick a size, and then select all the items you want on there. Perfect for me as they pretty much always get my order correct vs the "hold the X" type orders I have to make at other places. Here you can get burgers from quarter ponders to staggering one and a half pound burgers!
I went for a half pound which I think is about optimal. I added american cheese and a fried egg to mine, an all time favorite combo of protein delights. The meat was juicy, seasoned, and all around awesome. I like my eggs with drippy yokes but this was cooked through, though that makes sense at a fast food place. The cheese was good, the bun was great. This is my ideal fast food burger, just plain awesome. I also had seasoned curly fries which I was not too impressed with.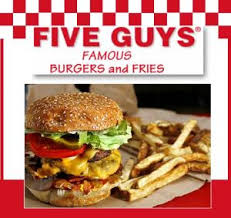 Five Guys (runner up)
I'd been to five guys in Seattle already but I wanted to include it since I'm pretty fond of their offerings. Like fat burger they take the philosophy of letting you just say each thing you want on your burger and keep the rest of the menu pretty simple with hot dogs, fries and shakes to round out the meal. I don't think they are exactly regional any more but they have that feel.
I tend to go for a double bacon cheeseburger here, sometimes with A-1 or BBQ sauce. Five guys is heavy on the meat, I think each slice is a quarter pound of beef. I like that, but the fall a bit short on the seasoning for the mean which is decent but not especially noteworthy. A good flavorful sauce tends to round that out. I like the fries here, and they give you tons of them. This is a place I'm always happy to go but don't rise to the level of cravings.
Carl's Junior (in a pinch)
This was the last of the western chains I tried. This place has a pretty wide ranging menu with burgers featuring beef, fish, chicken, even turkey and a range of specialty flavors like teriyaki, spicy hot, and western burgers. They also have plenty of sides to choose from and the usual drinks and shakes. The one I visited was kind of cluttered and a bit grimy, as where Five Guys and Fat Burger were near spotless clean.
I got a double western burger plain and dry hold the onion rings along with some jalapeno poppers. This was a big beefy burger with both a nice savory seasoning and spicy sauce. The "thick cut bacon" was not remotely thick cut but it was serviceable. The poppers were nicely spicy but otherwise pretty commercial tasting. I'd eat here because I like the style of the burger and the seasoning, but it is solidly in the mass produced fast food sphere.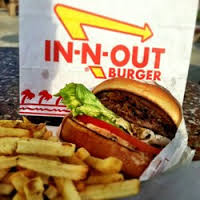 In and Out Burger (quality, but not for me)
Friends had told me this is the place I really had to go when I was in California for a good fast food burger. In and Out is solidly in the "no nonsense" school of burger joints. When they say fast they mean it and they keep a stripped down menu of burgers, fries, and shakes. Fortunately for me they do allow variations so you can get your burger how you like it. I was duly impressed by their clean and very efficiently run restaurants on the two occasions we dined here.
I ordered a "double double" plain, which is a pretty standard double cheese burger. The beef patties are pretty thin (2 oz) so this was a quarter pound total. While it tasted fresh, there was very little flavor to the meat, not enough of it, and the bun was likewise fresh but flavorless. All in all it was nice enough but unremarkable. The fries were a bit on the hard side and also not very flavorful. I got the impression the salad they used was especially fresh and clean leading me to think that were I into salad on my burgers, I'd appreciate In and Out much more than I did. It was cheap and yet clean and fresh which is rare in the burger world. I'd recommend them but it's not a place I'd pick out to go for a burger.
Sonic (cheap variety)
Sonic is a drive through only place that I've seen advertised in Seattle for ages but never actually encountered until coming down to the southwest where they are all over the place. Their menu is very extensive with all sorts of burgers, hot dogs, deserts, breakfast items, and other "fair food" type offerings. They seem most famous for blended slushy drinks in a rainbow of flavors and configurations. I was struck by the low prices for many menu items, easily rivaling national fast food chain places like McDonalds.
I ordered a Double Cheeseburger plain and tatter tots. I'd characterize by burger as serviceable. It had no special flavor and was at best a quarter pound of beef pre-cooking. The tots were fine but nothing special. My meal did come with coupons with deals like 99 cents for two corn dogs. All in all it seemed like a place to take the kids for cheap eats they would likely enjoy. For me, not a place I'd come back to by choice but wouldn't turn it down if someone else wanted to go.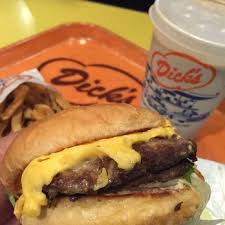 Dicks (pickles are evil!)
Dicks is a burger joint local to the Seattle area and a favorite of folks that live there. It has a very similar feel to In and Out burger with clean well run restaurants that feature a very slim set of menu options focusing on the standards at very decent prices. For me however Dicks has a fatal flaw; you can't customize their burgers in any way. You can get them lightning fast as a result, since they make them assembly style so there is always a fresh one ready to bag for you. Because of this limitation I've never eaten one, I can say with confidence since they include pickles and mustard I'd hate them. Others are very fond of these thin fresh hamburgers so I can say it is probably worth a visit if you like standard style burgers and fries.
Quick round up of national brands (for when you are lazy)
That's it for places that were new to me or seem to have more regional distributions. I thought for context I'd include my take on the big national burger joints.
Jack in the Box:  I love the sourdough bread burgers you can get here and that's about it. Their menu is vast and varied which is good, but quality and cleanliness can be really inconsistent.
Wendy's:  I like the seasoning they use as their burgers have a nice beefy flavor. I also tend to like their chilly. Unfortunately they often have the worst run and dirtiest restaurants of all the chains and having gotten sick there too many times I avoid them like the plague.
McDonalds:  I love the fires and I like the deserts, but the style of burgers and their flavor leaves me cold so I only come here for snacks. On the plus side they are usually well run and clean.
Burger King: The last burger I had from them had a sweet tasting slime on it, I have never eaten there since as the thought of it makes me gag. The restaurants are often a mess and the staff disorganized.